8 transactional email examples to help you grow your business
Transactional emails are crucial when you want your business to run smoothly and your customers to be happy. Here at Postmark we help thousands of people send out their transactional emails every day, but we also send out a lot of our own—in the last seven days alone, we sent out 67,966. That's a lot of transactional emails!

...do you want to see what they look like? 😉

Keep reading and check out the main emails we use to run and grow our business. We hope they will spark ideas for how you can run and grow yours, too.

8 transactional email examples #
Transactional email is a type of one-to-one, automated email a business sends to an individual user after a specific trigger or event such as a new sign-up, a password reset request, or an online purchase (unlike bulk or marketing emails, where the same message is distributed to an entire email list simultaneously).

Depending on the shape of your business, there may be dozens of transactional emails you can send, but a few must-haves include:
1. Welcome email
2. User invitation email
3. Password reset email
4. Payment invoice or receipt email
5. Payment failure notification email
6. Order confirmation email
7. Daily, weekly, and monthly digest emails
8. Enabling 2FA confirmation email


1. Welcome email #
If you ask new customers to sign up for or verify an account, you will probably send them a welcome email as soon as they're done. You want this email to A) get delivered really quickly, B) be extremely useful, and C) look and feel like it's coming from your brand: first impressions count.

In our welcome email, which we send out once a Postmark account is approved, we use a dedicated illustration to welcome customers to the Postmark family, offer some information about what they can expect from our service, and share a few useful links that help them reach their account and get started asap.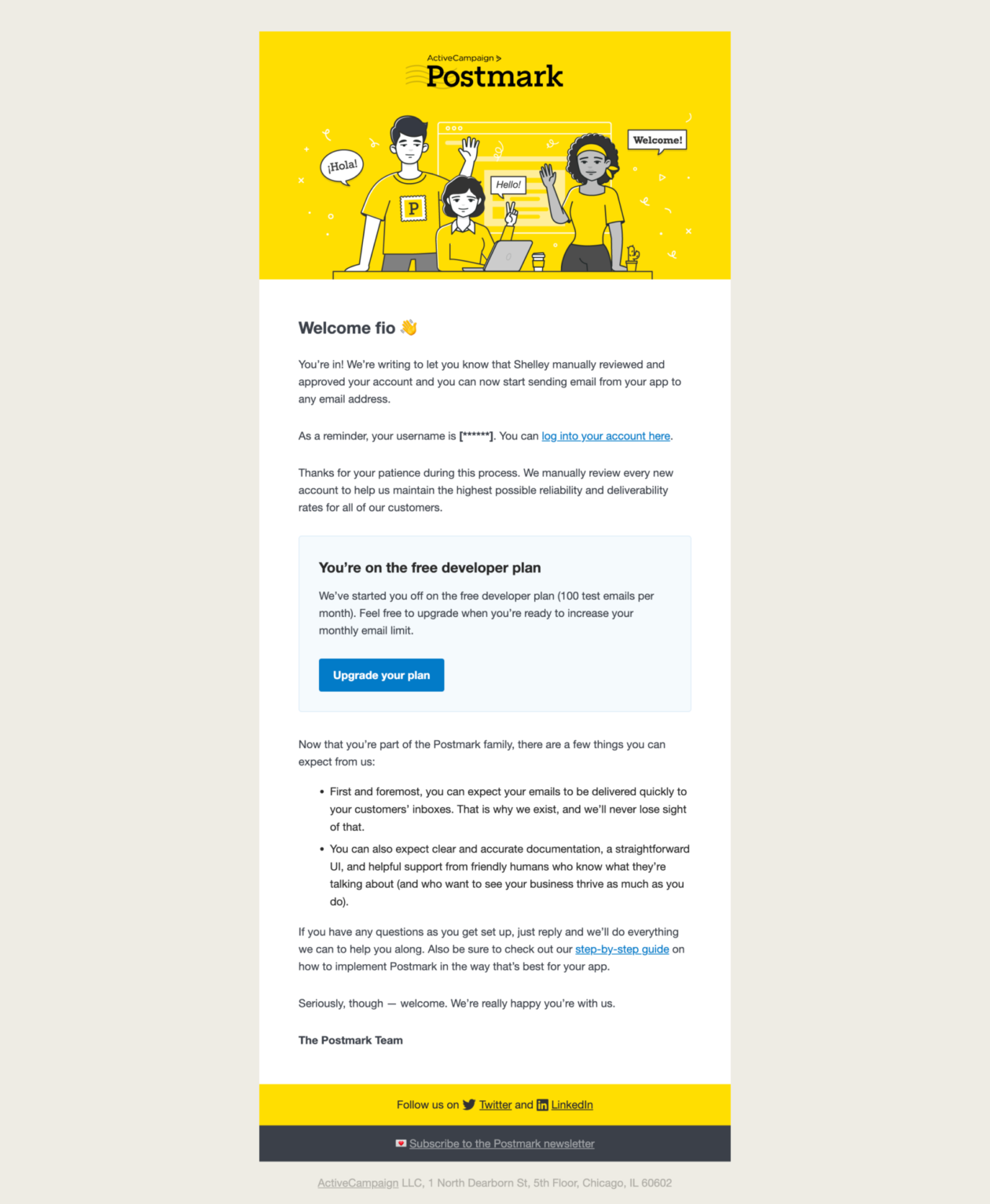 If this was your welcome email → in addition to making your welcome message consistent with your brand tone & style, you could summarize your customers' main details and list the next steps they should take. For more tips and best practices, check out our welcome email best practices guide.
2. User invitation email #
If you offer customers the option to invite their colleagues or clients to an account, then you'll need an account invitation email. In our example, we use another dedicated illustration to make the invitation look official, and share the name of the person who invited the recipient.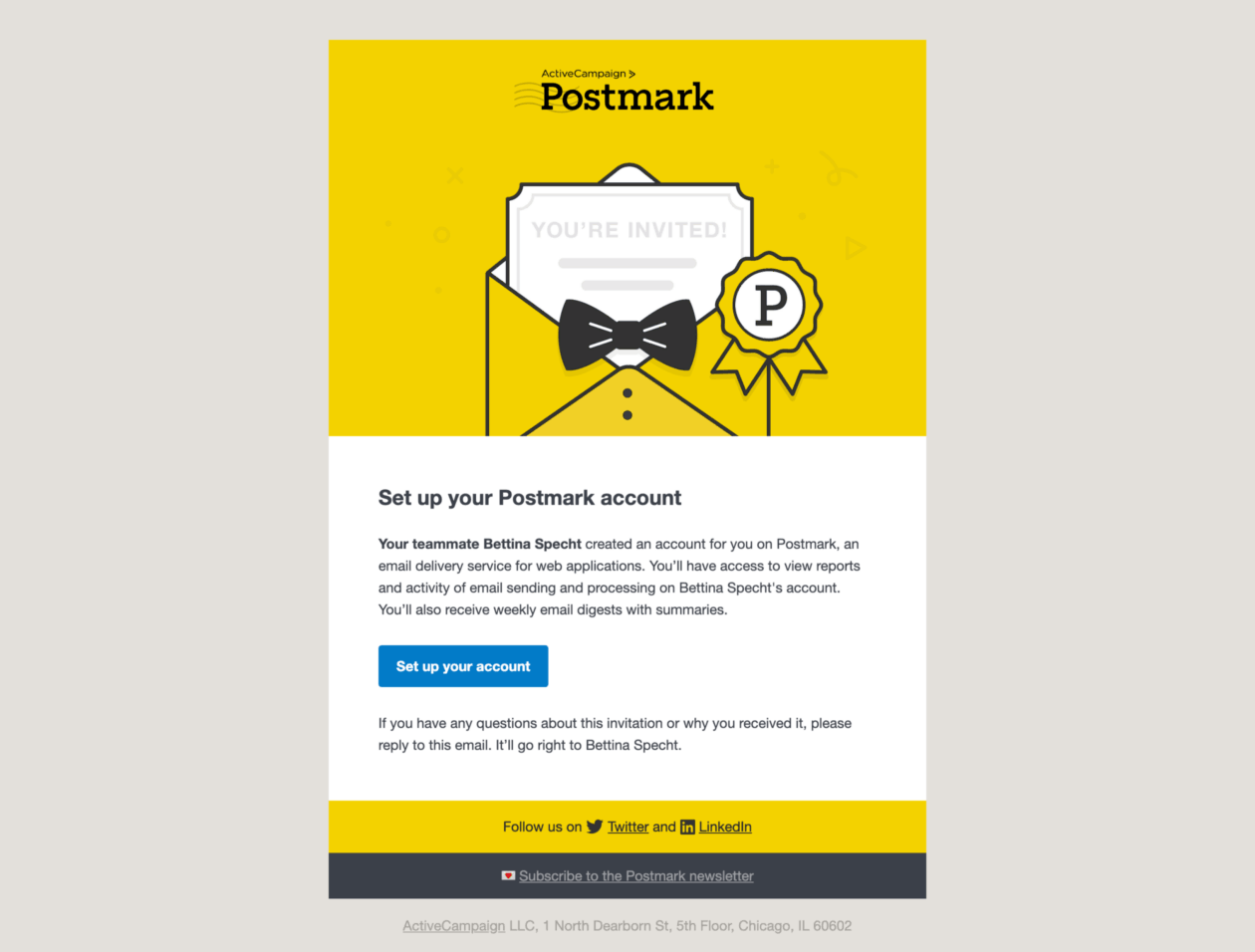 If this was your account invitation email → you would, like us, make sure to give a clear call to action so the invitee knows what to do to set up their account.

3. Password reset email #
Password reset emails are some of the most succinct and yet helpful emails you can send. They have one simple goal: help a user securely re-establish access to their account.

In our password reset email, we keep our message short and to the point, giving clear instructions about what steps our customers need to follow—and how long the email will be valid for (30 minutes). Note that our email also has a clear "From" name and subject, which helps a customer quickly identify the correct message in their inbox and take action.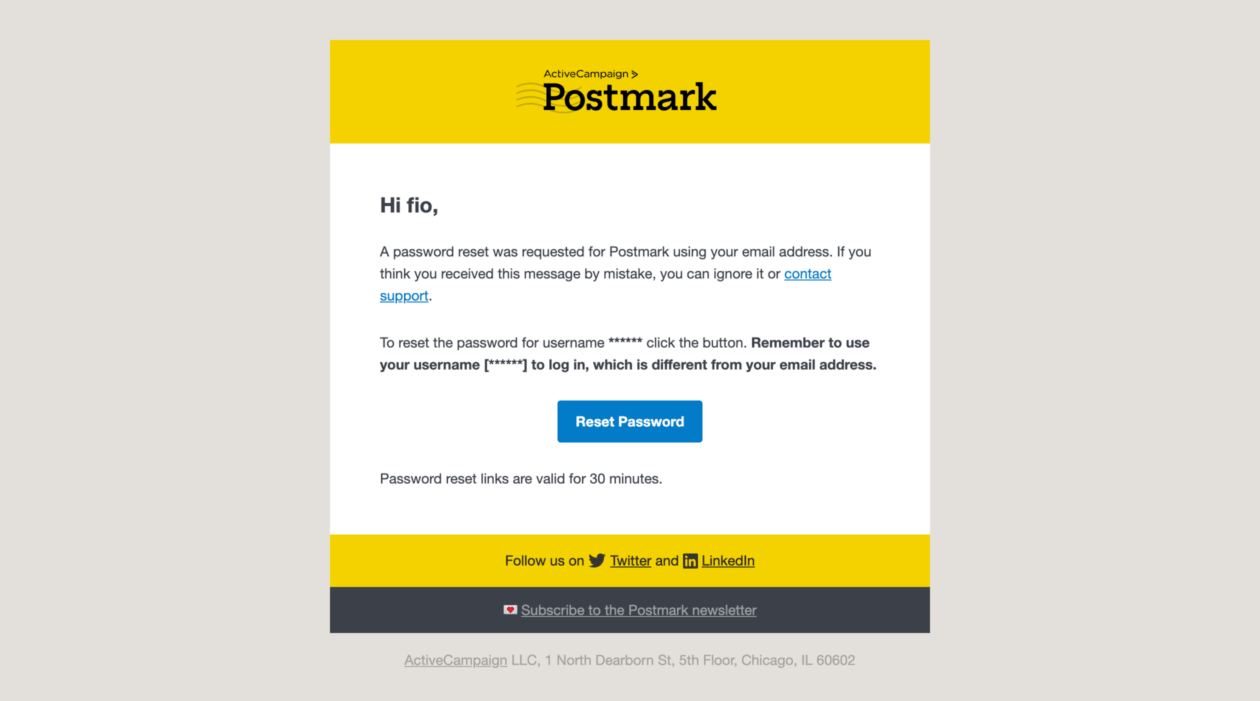 If this was your password reset email → you'd want to make extra sure your email gets delivered super fast, so you need an extremely reliable transactional email service… just like Postmark. 😉 For more info and tips on how to design your password reset emails, check out this really in-depth guide to password email reset best practices.

4. Payment invoice or receipt email #
At some point, your business will need to process payments and send relevant receipts. A well-designed receipt can make a great impression and even help generate additional revenue: in our example, we introduce a separate call to action that recommends a companion service and offers a 14-day free trial.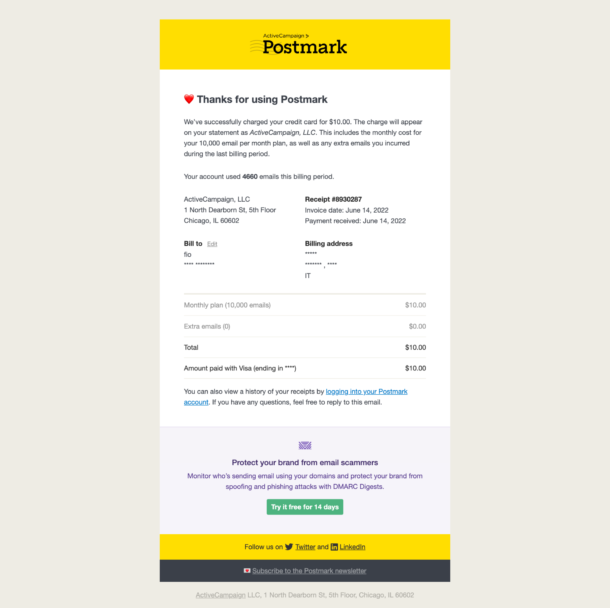 If this was your payment receipt email → ​​you'd want to give a useful and valid record of the expense for accounting purposes (for example, attach a printable PDF to your email or give customers access to an online repository they can download it from).
For more tips on how to structure your receipts, this invoice and receipt email best practices guide will be a great starting point.

5. Payment failure notification email #
A common phenomenon faced by all subscription businesses is involuntary churn, when customers fail to pay for a product or service not because they're unhappy with it, but because of (preventable) payment and billing issues.

At Postmark, we solve this problem with a 3-email dunning sequence that informs our customers of the issue and invites them to solve it within a specific timeframe. Below you see the first email, but you can take a look at our entire dunning sequence to see how we make it work.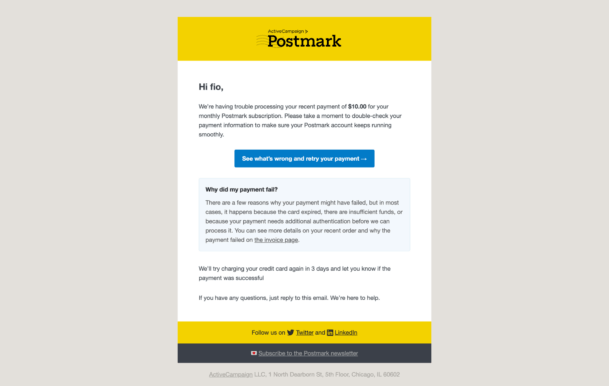 If this was your payment failure/dunning sequence → you'd want to make sure you give your customers clear directions to change their billing details and ample time to do it—so they can avoid bad surprises like suddenly finding themselves with a suspended account or locked out of it entirely due to a missed payment. Yikes. If you need some inspiration, check out some more examples, tips, and a template to create the perfect dunning sequence.


6. Order confirmation email #
Speaking of payments: sometimes your customers change their plans (...literally!), and you'll want to notify them when their order has been successful. Whether it's an upgrade or a downgrade, an order confirmation email like ours below clearly recaps what the customer changed and confirms how their billing cycle/preferences have been updated as a result.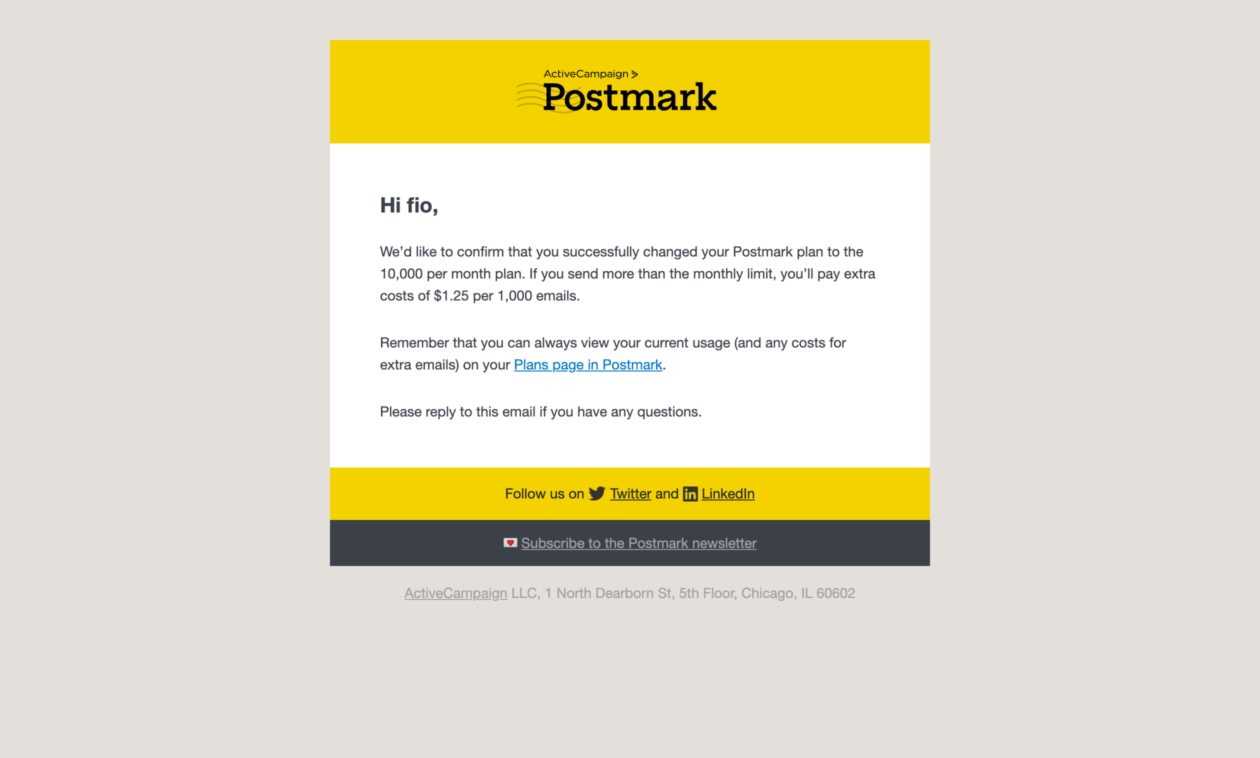 If this was your plan change notification email → ​​you could give your customers a handy link to their account dashboard where they can see their current usage and costs.

7. Daily, weekly, and monthly digest email #
Digests (sometimes mis-labeled as newsletters) are single emails that summarize account activity during a specified timeframe. For example, we send out a weekly digest that summarizes the number of emails sent, bounced, and that were reported as spam—and we like to see the count stay at 0 for the latter two. 😉


💛 Pro tip: most folks in the industry consider reports and digests transactional, which is why we included them here—but if you are using Postmark to send this specific format of email, we recommend sending it over a Broadcast Stream instead to avoid queues and delays.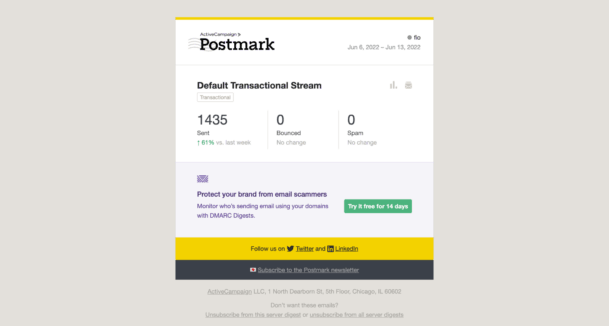 If this was your email digest → ​​you'd want to include relevant data points your customers (and their stakeholders) will find valuable. Instead of requiring them to visit their dashboard every time they want to check on a project's status or progress, you can conveniently deliver the same information via email. That's a great service!

8. Enabling 2FA confirmation email #
Sometimes, for extra security, you'll ask your customers to set up two-factor authentication (2FA). Here at Postmark, we offer this extra layer of account security as well, and once you set up 2FA you will receive an email that confirms you've been successful.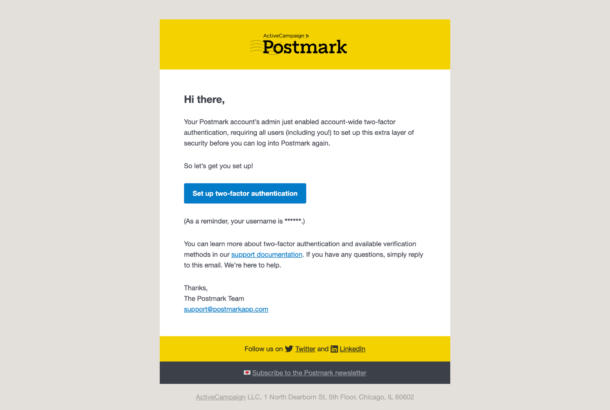 If this was your 2FA confirmation email → ​​ you could send a succinct reminder of the new details your customer shared (e.g. the phone number associated with their account). Bonus points if you like to be extra-safe, like us, and give customers a way to contact support immediately if they received this email without first taking action.

Final thoughts:
#
All the emails you've seen are from our team at Postmark, and we obviously sent them through Postmark. 😉 We have outstanding time to inbox and stellar deliverability, so our customers never have to wait for their transactional emails to arrive.
If you'd like to do the same for your customers, why don't you take Postmark for a spin?
Ready to set up your transactional emails?
While we admit we're a little biased, we've got to say it: if you're looking for a transactional email service provider that gets your messages delivered fast and reliably, we think you should give Postmark a try. We'd love to have you—and we're here to help with any questions you might have.
Check it out for free →