6 transactional email services compared (and how to pick the right one)
Welcome emails, password resets, order confirmation messages: your users and customers need them, and you want to make sure they get them. A transactional email service provider is what helps you send crucial emails like the types we listed above—but how do you choose the right provider for your business?
We have some ideas (and a spreadsheet!) that could help.
6 of the best transactional email services in 2023 #
If you want to compare the top transactional email providers at a glance, we put together this handy spreadsheet to help you see the most popular software solutions, their features, and pricing side by side.
Click to see it →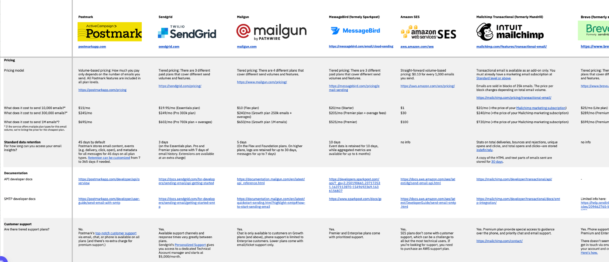 And if you're looking for a deep dive, here's a list of the most popular email service providers that can handle your transactional emails, along with a breakdown of the pros and cons of each:
1. Postmark
#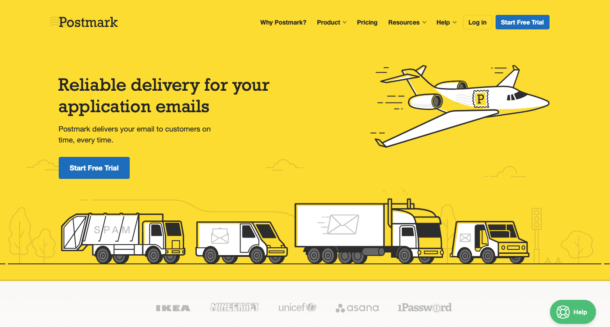 When Postmark (hi 👋) launched its email delivery service in 2009, it focused on transactional email only—and for more than a decade, we stuck with that focus. So trust us when we say that the team at Postmark knows how to please developers looking for a transactional email service: our customers love the tool for the blazing-fast (and reliable) delivery, outstanding customer service, and straightforward documentation that makes integrating Postmark a breeze.
Since 2020, Postmark also sends promotional and bulk emails—but because those are sent via a completely separate sending infrastructure, the quality of Postmark's transactional email delivery remains top-notch.
👍 Pros
Reliable and lightning-fast delivery. Speed is at the core of what defines Postmark as a transactional email service—and Postmark is the only provider that shares delivery times publicly.

Promotional and transactional emails never mix: With the Message Streams feature, Postmark separates promotional and transactional messages, protecting the high deliverability of your crucial transactional emails.

45 days of data retention by default: each Stream's activity feed gives you full access to the data you need including delivery events, bounces, opens, and clicks for 45 days—and you can customize the data retention period from 7 to 365 days.

Transparent pricing: It's simple to calculate how much you'll pay with Postmark's volume-based pricing. All of Postmark's features and great customer support are included with all Postmark plans.

Email templates: Postmark includes pre-built templates and layouts for common types of transactional messages like welcome emails, password resets, receipts and invoices, trial expirations, user invitations, and comment notifications. Its editor and tools give you complete control over customizing each template to fit your exact needs.
👎 Cons
Pricing
Postmark uses straightforward pricing based solely on the number of emails per month.
Here's a snapshot:
What does it cost to send 10,000 emails? $15/month

What does it cost to send 300,000 emails? $245/month

What does it cost to send 1 million emails? $695/month
2. Amazon SES #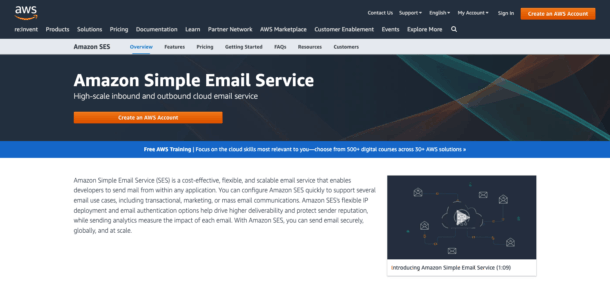 Amazon Simple Email Service (SES), part of the Amazon Web Services platform, is a lightweight, stripped-down email service provider with one major selling point: it's extremely cheap. Seriously, every other provider on this list costs at least five times more.
But in exchange for such bargain price, Amazon SES simply does less. While other transactional email services offer features like automatic bounce handling, processing spam complaints, and providing email analytics, these aren't included with Amazon SES. What you save in cost per email sent, you might make up for in manual work as you're left to build crucial functionality yourself.
👍 Pros
Extremely inexpensive: Amazon SES is cheaper than any alternative service.

Global reach: Amazon's scope allows multinational businesses to place applications closer to endpoints.
👎 Cons
No support: SES-only plans don't include support from Amazon, leaving users to DIY and self-troubleshoot. AWS support plans cost extra, cutting into those bargain-basement prices.

No deliverability insights: Amazon SES doesn't tell you what you want to know about deliverability, making it hard to know whether or not your transactional emails made it to the inbox. That makes troubleshooting deliverability issues tricky.

Requires a lot of manual work: Setup of some functionality (like tracking and monitoring for message events) is complex and labor-intensive.
Pricing
Applications not hosted on Amazon Elastic Compute Cloud (EC2) generally cost $0.10 per 1,000 emails, plus $0.12 per GB of sent email attachments. Pricing is pay-as-you-go.
Here's what you'll pay when sending emails with SES:
What does it cost to send 10,000 emails? $1

What does it cost to send 300,000 emails? $30

What does it cost to send 1 million emails? $100
Users with an Amazon EC2-hosted application get 62,000 free emails per month.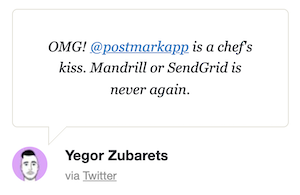 What we've heard from customers who switched from Amazon SES to Postmark:

Many customers who turn to Postmark as an alternative to Amazon SES told us they were struggling to get their transactional emails delivered reliably and were lacking the tools and insights to figure out what was wrong. Plus, Postmark is a whole lot easier to use, especially for less technical users. Read the full comparison.


3. SendGrid #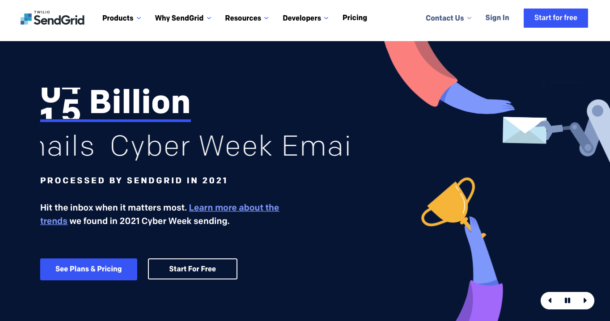 SendGrid has been in the email business for longer than most. What started as a simple email API back in 2009 has grown over the years into a full email platform covering a wide range of services, including transactional email delivery and a large suite of email marketing tools. Plus, since SendGrid became part of Twilio, customers can find an even broader range of customer engagement tools including SMS and WhatsApp.
👍 Pros
Veteran player: SendGrid is the largest and one of the oldest email service providers.

A powerful all-in-one service: Customers looking for customer engagement tools, marketing automation, and transactional email all in one place will find SendGrid to be an attractive choice—especially now that it's integrated with parent company Twilio.
👎 Cons
Deliverability is mixed: SendGrid's IPs occasionally see deliverability issues, leading to mixed results for speed, quality, and reliability.

Pay more for better service: Customers facing deliverability issues are usually advised to upgrade to a more expensive plan with a dedicated IP. We think that's not troubleshooting or customer service—it's upselling.

Choose your support level—"slow" or "expensive": Since its acquisition by Twilio in 2019, some customers are complaining about frustrating customer support experiences. Premium support is available—but that costs extra.
Pricing
SendGrid offers four different plans with varying feature sets, send volumes, and customer support levels. We're showing pricing for the most affordable plan per email volume, but you'll want to make sure to read the fine print and pick the plan that includes the features you need.
What does it cost to send 10,000 emails? $19.95/month (Essentials plan)

What does it cost to send 300,000 emails? $249/month (Pro 300k plan)

What does it cost to send 1 million emails? $602/month (Pro 700k plan + overages)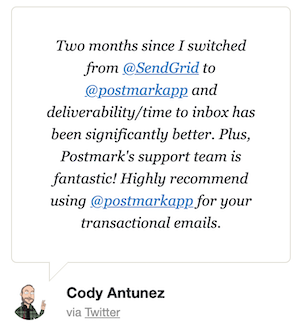 What we've heard from customers who switched from Sendgrid to Postmark:
Whether you're sending a few hundred or millions of emails, with Postmark you'll see great deliverability results and receive stellar customer service at all times. With SendGrid, on the other hand, getting better results often means having to upgrade to another plan that comes with better-quality IP pools and premium support—and that can get expensive. Not cool.
Learn more about how Postmark compares to Sendgrid →



4. Mailgun #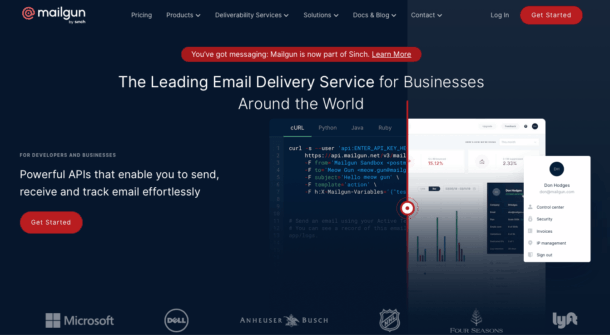 Mailgun is another popular choice with developers looking for a transactional email service. Their API is flexible and their docs solid, making it fairly easy to integrate Mailgun into your application.
The folks at Mailgun have gone through a bunch of acquisitions over the past years: They got acquired by Pathwire at the beginning of 2021, which in turn got acquired by Sinch later that year. While it's still a standalone product, it's now part of a larger ecosystem of messaging services.
👍 Pros
Reliable service: Mailgun has a 99.99% uptime SLA.

Focus on transactional email: Support for marketing campaign emails is siloed in the Mailjet application.
👎 Cons
Mixed customer support reviews: Reviews skew heavily toward either "excellent" or "poor" on Trustpilot.

Inconsistent deliverability and sending speed: While not universal, some customers report deliverability issues, and that some emails don't reach the inbox promptly.
Pricing
Mailgun offers four pricing and service tiers. Like with SendGrid, read each plan's description carefully to make sure you're getting every feature you need.
What does it cost to send 10,000 emails? $8 (Flex plan)

What does it cost to send 300,000 emails? $235/month (Growth plan 250K emails + overages)

What does it cost to send 1 million emails? $650/month (Growth plan 1 million emails)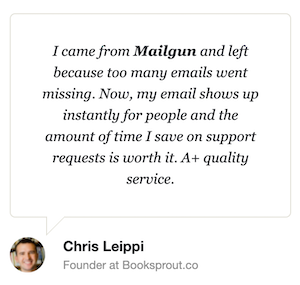 What we've heard from customers who switched from Mailgun to Postmark:
Issues with missing emails and inconsistent deliverability results are the main reasons why senders are moving away from Mailgun—and we're proud to see that those who switch to Postmark see better, more reliable delivery.Read our full Mailgun vs. Postmark comparison, including insights from customers who've made the switch.
5. MessageBird (formerly SparkPost) #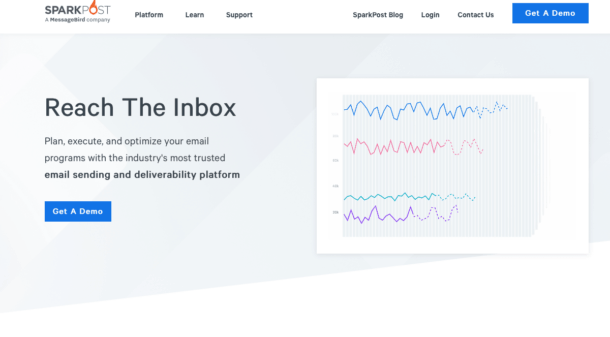 MessageBird (formerly SparkPost) is a massive delivery provider by volume: They claim to capture almost 40% of B2B and B2C email. The company focuses primarily on high-volume senders and the enterprise market, and places a premium on security, data, and compliance. This may make MessageBird an ideal fit for businesses in heavily regulated industries.
👍 Pros
Compliance and enterprise support: Companies in industries with specific security and compliance regulations will find what they need in MessageBird.

Detailed documentation: MessageBird's comprehensive documentation helps users navigate the service's complex features.
👎 Cons
Focused on enterprise: MessageBird is focused on providing everything the largest businesses could need; as a result, its complexity is too much for smaller businesses and startups.

Mixed customer service responses: A woefully low score on Trustradius isn't a good sign.
Pricing
MessageBird offers three service tiers (Starter, Premier, and Enterprise) which come with different features and cover different email volumes.
Here's what MessageBird will charge you for sending your emails:
What does it cost to send 10,000 emails? $20/month (Starter)

What does it cost to send 300,000 emails? $205/month (Premier plan + overage fees)

What does it cost to send 1 million emails? $525/month (Premier)
6. Mailchimp Transactional (formerly Mandrill) #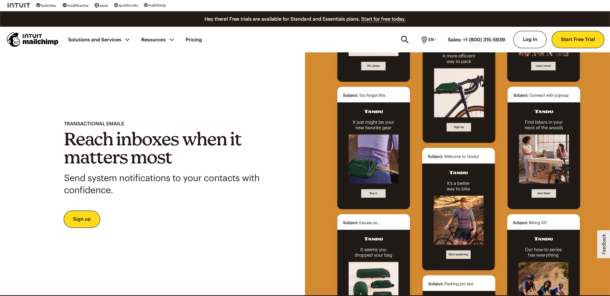 Mailchimp Transactional used to be a standalone transactional email provider offered by Mailchimp, but is now only available as a paid add-on for existing Mailchimp marketing plan users. If you're already using Mailchimp for your marketing efforts and are happy with the service, Mailchimp Transactional is a handy add-on. If you're not using Mailchimp, then Mailchimp Transactional likely isn't the best fit for you.
👍 Pros
An excellent "everything service": If you need it all, Mailchimp Transactional provides a well-integrated package.

Strong analytics: Mailchimp offers customizable analytics, including pre-built dashboards, and an export API.
👎 Cons
Mandrill is an afterthought: Mailchimp is committed to its primary product. As an add-on, Mailchimp Transactional doesn't seem to be getting as much attention.

Cost: Mailchimp marketing plans + Transactional add-on can be on the expensive side—and you have to pay for both.
Pricing
Bulk emails are sold in blocks of 25k emails. The price per block changes depending on the total monthly email volume you're looking to purchase. However, this cost is in addition to your Mailchimp monthly plan, so make sure to combine the two expenses for the most accurate picture of your email sending costs:
What does it cost to send 10,000 emails? $20 (+the price of your regular Mailchimp subscription)

What does it cost to send 300,000 emails? $240 (+the price of your regular Mailchimp subscription)

What does it cost to send 1 million emails? $720 (+the price of your regular Mailchimp subscription)
Ready to set up your transactional emails? We've got your back.
While we admit we're a little biased, we've got to say it: If you're looking for a reliable transactional email service provider that gets your transactional emails delivered fast and reliably, we think you should give Postmark a try. We'd love to have you—and we're here to help with any questions you might have.

Start a free trial →
Do you still have questions about which provider to choose? No problem: we put together an additional list of 6 things you should consider.
6 things to look for in a transactional email service provider #
What separates an average service provider from a great one may depend on what you and your business need when it comes to your transactional emails. There is no one-size-fits-all approach here, so let's give you a quick breakdown of some factors we think you should consider.
1. Reliable email delivery #
When sending promotional or marketing emails, a single missed email won't create a crisis. But when an important transactional email doesn't make it to the inbox, that can have a damaging effect on the user's experience and your business. If your customers can't access their accounts because their account confirmation emails never came through, then they can't use your service. Ouch.
That's why you'll want to pick a transactional email provider with a great sender reputation and a history of reliable email delivery.
2. Delivery speed #
For transactional email sending, speed matters.

Your customers don't frantically refresh their inbox waiting for your next newsletter, but their password reset emails or emails containing login links are another story. Slow delivery of crucial transactional emails frustrates customers (and might even cause them to abandon your product or a purchase process) and causes extra work for your support team.

Because you want those crucial emails to arrive immediately, not eventually, you'll want to find an email service with a proven track record of fast email delivery times. If an email service makes data around their email delivery speed publicly available, that's a good sign that they take delivery speeds seriously.
3. Ease of use #
Transactional emails are closely tied to your product, so it's important that the service you choose is flexible and easy to integrate with. Whether you're looking to integrate via SMTP server or an API, check out the vendor's developer docs to get a sense of what it takes to integrate with your app. Does the provider offer libraries in your preferred languages that will make the integration process fast and easy? Plus, look for pre-built plugins and integrations that can speed up the setup process.
4. Responsive customer support #
Since your transactional emails are often mission-critical to keep your business running, you want to be sure that you can count on your delivery service's support team should you ever run into issues. We all know it can be nerve-wracking to have issues with transactional email delivery and not hear back from your service provider.
So before you pick a provider, try to get a feeling for their customer support levels. Is support included in all plans or do you have to pay extra for reliable support? And are existing customers happy with the service's customer support? A quick search on Twitter or public review sites like Trustradius can help you get a sense of support service quality.


5. Clear pricing structure #
Some providers entice customers with free plans or pricing models that may look too good to be true. Be sure to calculate the total cost of a particular service for the level of service you need. For example, would you need to upgrade to a premium plan to access certain features like longer message retention or to receive the customer support levels you require? In some cases, transactional email service isn't available as a stand-alone plan, so a premium marketing/promotional plan is a prerequisite to purchasing a transactional add-on. If so, you'll need to factor in those hidden expenses.
6. Robust and actionable email analytics data #
Do you rely on open and click tracking to evaluate how your transactional emails are doing? Make sure your email service provides the insights you need to track performance and troubleshoot issues. Pay special attention to how providers track and display email bounces. If your transactional emails bounce, it's important to find out why—and to have the tools to fix any issues to protect your reputation and deliverability.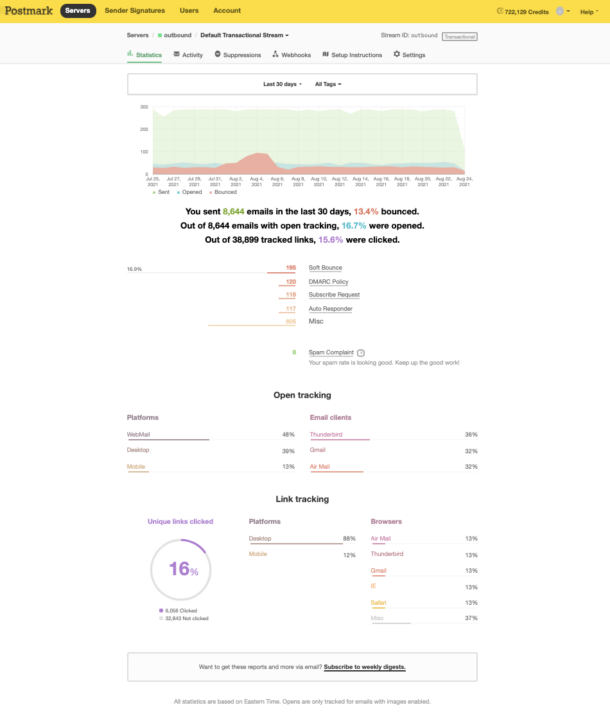 PS: if you want to know how these providers compare to one another when it comes to additional services, we've got you covered with this list of the best email APIs and best email SMTP services in 2023.