Take Postmark's SMTP Field Manual for a spin
Here at Postmark, we believe email delivery shouldn't be a mysterious black box. That's why we've been running the SMTP Field Manual since 2019: an open-source app for documenting SMTP bounce responses from around the world.
SMTP bounce responses are three-digit codes a mail server provides to tell you the status of a message sent. They're incredibly helpful for troubleshooting deliverability issues, but these responses can vary wildly from one receiver to another. The SMTP Field Manual offers more transparency about the kinds of bounces your message might encounter.
Since its launch in 2019, we've been collecting feedback from you about how to make the SMTP Field Manual a more helpful and effective resource. Let's run through it—and if you spot anything that needs adding or tweaking, let us know.

A comprehensive list of SMTP error codes #
The manual includes a general description of several email and mailbox provider services and some public resources available for each of these recipient providers.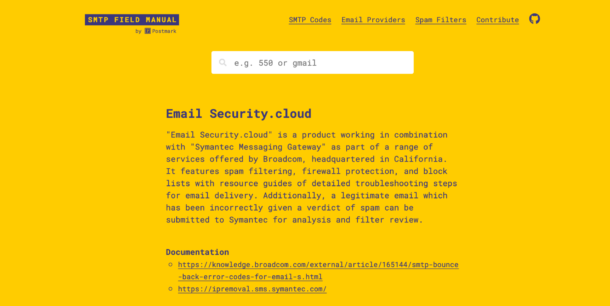 Understand the severity of SMTP responses
#
When viewing a list of SMTP responses, you can spot a severity flag on a range of "low," "medium," "high," and "critical." This flag can help quickly identify which bounces are considered normal and expected versus which need immediate attention and investigation.
Actionable advice for troubleshooting
#
And if you click on an individual SMTP response, many have additional context and troubleshooting tips specific to that response. It's a truly one-stop shop for understanding what these bounces mean and how to fix the underlying issues that cause them.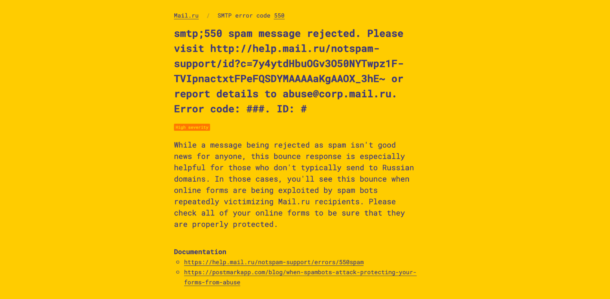 Get involved #
Since the SMTP Field Manual is a collaboration of the entire email deliverability community, all of the data you see here needs to be updated, edited, and added to by you! In addition to submitting pull requests and issues in Github, you can use smtpfieldmanual@postmarkapp.com as an easy way to share your expertise. As always, any contributions you make will give you the option to be featured on the Contribute page.
Troubleshooting bounces and blocks from receivers is surely one of the most challenging and intimidating deliverability issues, so thank you to those who've already contributed to this project and inspired its features and improvements. 🙌
We believe this continued collaboration will make bounces more informative, resources more accessible, and troubleshooting more effective in a way that improves the email landscape for everyone.