Introducing the Postmark Retention Add-on
Postmark stores message content and activity data for 45 days by default—that's much longer than the competition. If 45 days is too short (or too long), with our new retention add-on you have the flexibility to adjust retention from 7-365 days.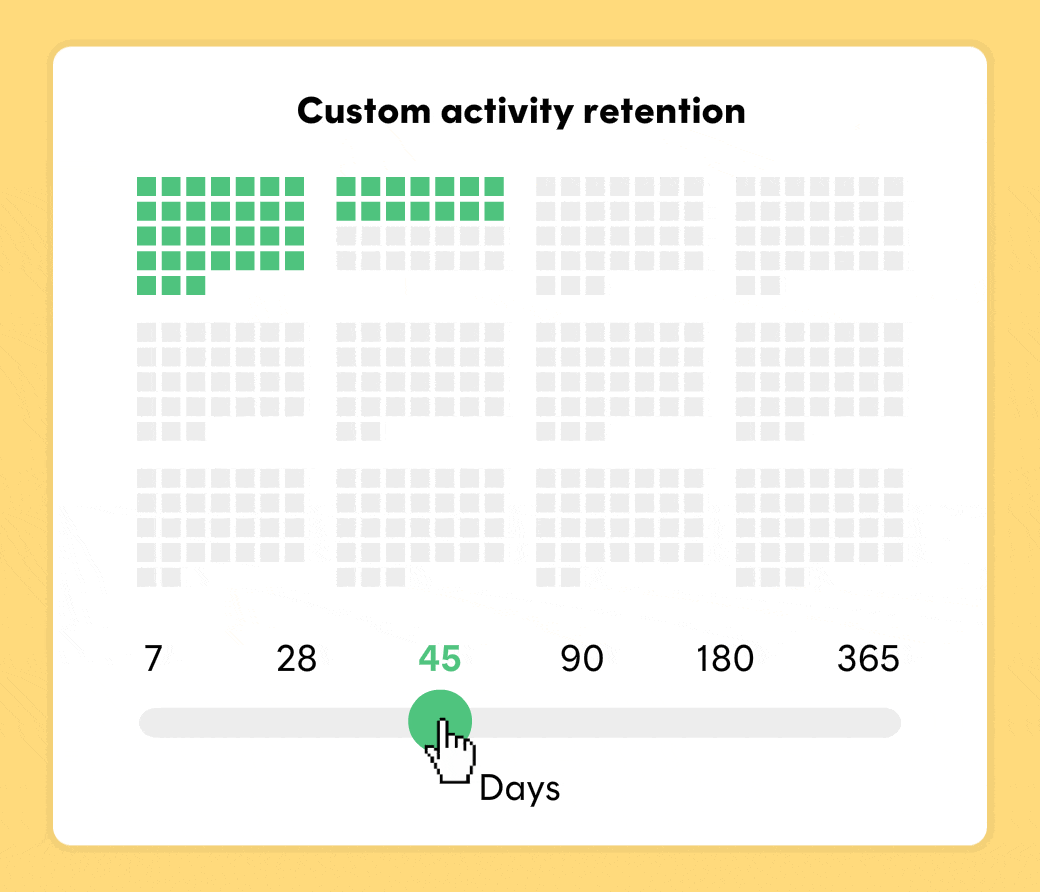 If you ever wondered if there's a way to adjust how long Postmark stores messages and activity insights, you're not alone. We diligently keep track of customer requests—and providing a way to customize your retention settings is one of the most popular ones.
So we're excited to share that starting today, you get to decide how long Postmark stores your data. We'll continue to store messages and activity logs for 45 days by default (just like we do today), but with our Retention Add-on, you can pick a retention time that works best for you.

Increase your data retention to up to a year and keep crucial data for longer #
Up your email retention time—you can choose between 90, 180, and 365 days of data retention—and make sure you and your team have access to crucial email insights whenever you need them:
Keep proof of send to navigate customer complaints or to fight chargebacks
Having access to your email insights for longer is helpful when you're selling digital goods (and need proof that you actually delivered those items) or want to keep record of important customer communications (for example when you change your terms of service). So next time an angry customer says "I never got that email!" you have the tools to check if that's actually true — even if that email was sent more than 45 days ago.


Keep email logs for audits or compliance
Some businesses are legally required to keep a record of the email they delivered. If that applies to you, you can let Postmark store your data for longer so that you don't have to develop a custom solution for record-keeping on your end.


Give your support team the troubleshooting tools they need
When email sending is a crucial part of your business, insights into delivery events, bounces, or recipient activity are invaluable for troubleshooting. With extended data retention, your support team has access to these insights for longer.

Keep track of crucial performance metrics over time
Whether you're using Postmark to send transactional emails, promotions, or important account notifications, with the retention add-on you have access to important metrics like clicks, opens, bounces for longer so you can keep an eye on how your emails are performing.
Reduce your data footprint when you decrease your data retention time #
We know a lot of you care deeply about your customers' privacy — and many of you make a true effort to reduce the amount of personal data you store from your customers. We're here to support you in that effort.

Don't hold onto customer data for longer than you have to
With our custom retention add-on, you can reduce the time Postmark stores email content and activity insights — and with that any personal PII we have from your customers (like their names and email addresses.)
Put GDPR compliance on auto-pilot
Under GDPR, each individual has the right to submit a Data Subject Rights (DSR) request and ask a vendor to delete any personal data they might hold. GDPR gives companies 30 days to fulfill these requests, and if you reduce your data retention time to less than 30 days, you'll no longer have to worry about these requests.
Get the add-on today #
The add-on is available to all Postmark customers on paid subscription plans. If you'd like to customize your retention times, head over to the plans and add-ons section in your Postmark account and select the retention period that fits your needs.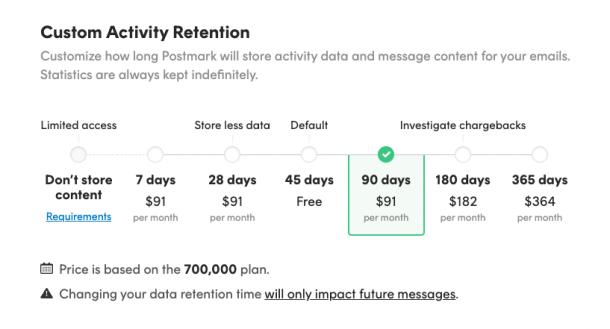 Once you've added the add-on to your Postmark account, your new retention settings will apply to all emails you send going forward. And once an email reaches its expiry date, the message and related activity insights will no longer be available in the Postmark UI or via our API.
If you're looking to find out more about the add-on, how exactly it works, our pricing, and more, visit our support documentation to get all the details.
We can't wait to hear what you think about this new feature. If you have any feedback, please let us know!