How to reliably deliver Craft emails with the Postmark plugin
Are you a fan of Craft CMS? Us too. 🙌 That's why we're so excited to share that we've teamed up with our friends at Craft to give the Postmark plugin an update to support Message Streams.
With Message Streams, we've built a parallel but completely separate sending infrastructure for broadcast and transactional emails so you can send bulk emails—that's your newsletters, product updates, or promotions—without impacting the delivery of your transactional emails. Message Streams support for the Postmark plugin means you can now use the power of Postmark to send all your email from Craft, whether that's transactional or promotional messages.
Let's take a look at how it works.
The Postmark plugin for Craft: How to use Postmark as your default email service #
When you use Craft to manage your website, Craft needs to send some important application email. For example, you'll want to send invitation emails to new users and allow them to trigger password reset emails. Or, you might want to automatically send a custom email once a user has submitted a form on your website.
By default, Craft lets you send email via PHP Mail or Sendmail protocols. Those are great if you're doing some testing as you set up your Craft website, but they aren't a great choice for reliable email delivery in production. Here's how our friends at Craft put it:
If you're using the PHP Mail or Sendmail protocols under Settings → Email in the Craft Control Panel on your production site, don't. They are notoriously unreliable at successfully delivering emails and should not be used in a production environment. Consider using a proper SMTP server, or better yet, a transactional email provider.
With the Postmark plugin for Craft, it's easy to make Postmark the default email service for all your Craft emails — and we'll make sure that your important emails make it to the inbox fast and reliably.
Installing the Postmark Plugin #
To get started, head over to the Craft plugin store and install the Postmark Mailer Adapter. You'll then be able to select Postmark as your default email service in your Craft settings and connect your Postmark account using your server token. The Message Stream ID field lets you specify which stream to use to send email via Craft. We'll use your default transactional Message Stream if you leave this field blank. Read our support documentation for a detailed walkthrough of how to get set up with Postmark and Craft.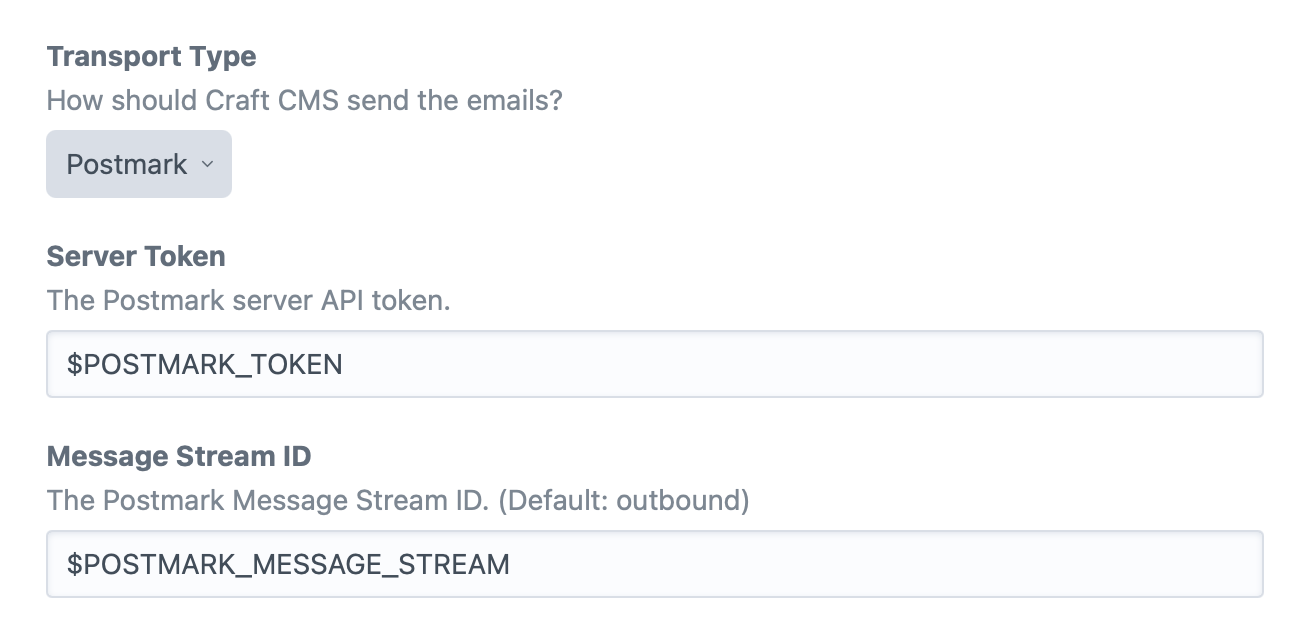 Send your bulk email via Craft Campaign and Postmark Message Streams #
Do you handle all your marketing emails in Craft? Campaign is a popular email marketing plugin that brings mailing lists, campaign management features, and segmentation tools right into your CMS so that you can manage your email campaigns right within Craft. And now you can integrate seamlessly with Postmark to get those emails delivered to your subscribers' inboxes.
Set up a Broadcast Message Stream in your Postmark account—that's a stream dedicated to sending bulk emails like your newsletters—and then connect that Message Stream to your Craft Campaign instance to use Postmark's powerful and reliable email sending infrastructure to deliver your email.
Campaign can maintain separate mail configurations to Craft's default mail settings, so you can specify a transactional stream for Craft's regular messages (like we covered above) and a broadcast stream for the newsletters and promotional emails you send via Campaign.
Ready to send email with Postmark and Craft? #
Here are some more handy resources to help you get started:
Do you have any questions? We're here to help.