Feature Announcement: A brand new Servers page
We've made tons of design improvements in the Postmark app over the past few months. From a new activity feed, to a better DNS Settings page, all the way through a redesign of our webhook pages, we set out to understand exactly what you need to do on those pages and flows, and design the best possible experience for those needs.
Today, that philosophy gets extended to one of the most-used pages in the Postmark app: the Servers page. You've been asking us for a while to add features like search and better sorting options to that page, and today we're happy to give you that, and much more.
First, lets start with the new page. Here it is: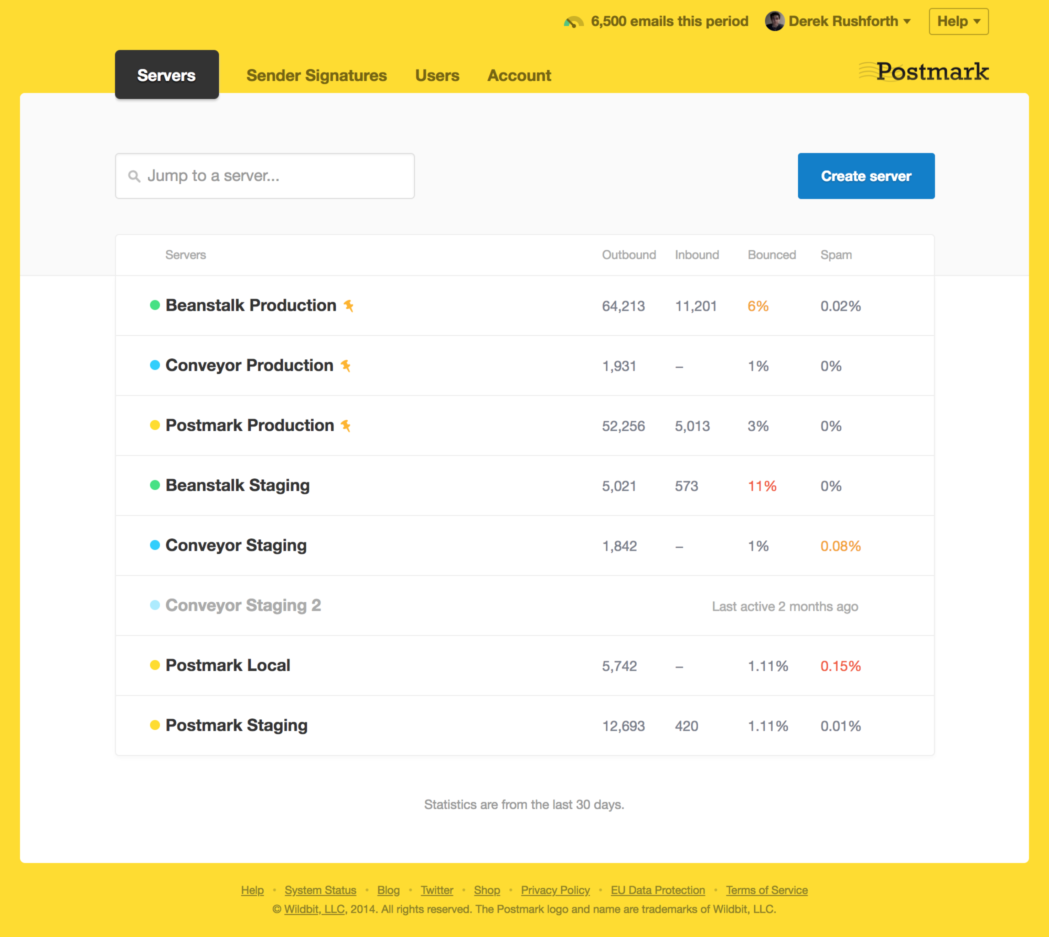 We made a bunch of big and small improvements to the page. A few of the highlights include:
Search has been dramatically improved! You can now type in a server name at the top of the page, and jump straight to that Statistics page of the server without a bunch of scrolling and pagination.
You can now "pin" your most-often used servers to the top of the page. Just hover over a server row, click the 📌 icon, and you'll have quick access to those servers.
Servers that you haven't used for 30 days or more will now appear "inactive" (greyed out). That way you can easily see if there are servers you might be able to delete or repurpose.
We added a column to show you the current spam complaint percentage of each server.
We now color-code your Bounce and Spam Complaint percentages so that you can easily see if a particular server needs attention. As soon as a number turns orange (close to the limit) or red (over limit), you'll know that something weird is going on and it's time to check your Activity page for that server.
Servers are now alphabetically ordered to make them easier to find.
Hovering over a server not only lets you pin the page, but also has a couple of additional shortcuts to help save you time:
You can do a basic Activity page search from this screen, and jump straight to the search results
You can choose to go directly to the Outbound or Inbound activity page


In addition to all of this, we also gave the page where you create a server a refresh to make it clearer what's happening and what you need to do: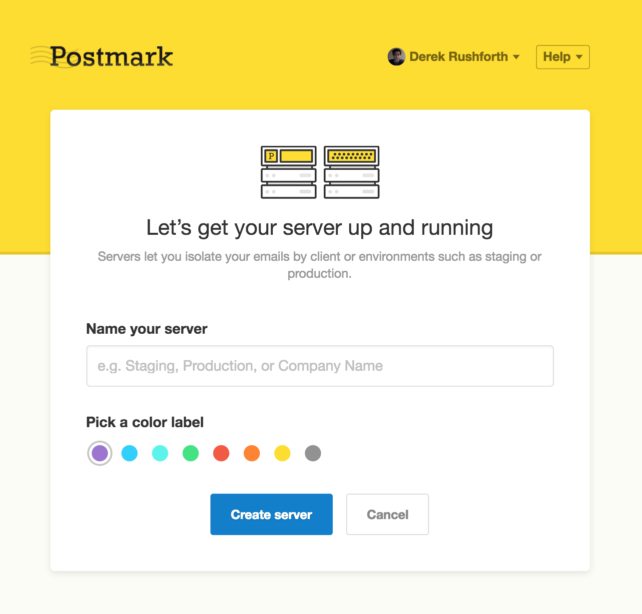 To summarize, navigating your Postmark account just became a lot faster. From our customer research we know how important it is to you to get to the information you need as quickly as possible. The Servers page used to be a bit of a roadblock on that journey, but now it's a natural part of that process that should save you just a little bit of extra time.
As always, we'd love to hear your feedback. Send us an email to support@postmarkapp.com if you have thoughts or comments on this new page, or suggestions for how to make it even better. We're not just saying that to be nice—I really do love hearing from all of you!
Happy sending!