Improvements to servers page
Today we released a big update to the servers listing page. It should be a huge improvement for those of you with many servers. Here is a screen shot.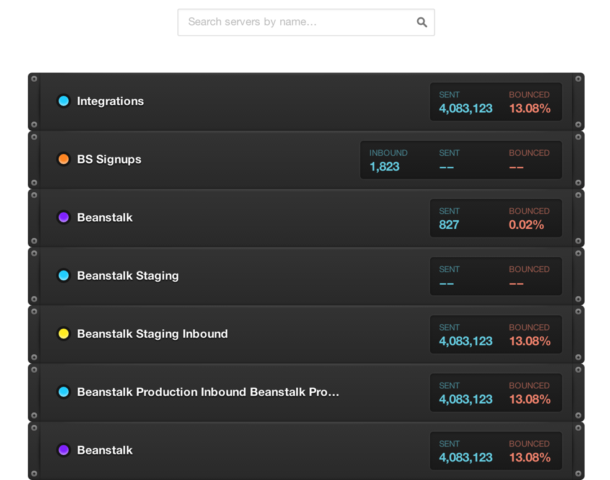 Visible statistics #
Previously, if you had many servers, it was really hard to figure out which ones were active or which servers were inbound, outbound or both. With the new layout it's immediately clear. We show inbound, sent and bounce statistics for each server.
Server search #
If you have many servers, it can be hard to find the one you are looking for. To make it easier for larger accounts, we added a very fast search and pagination. The nice thing is that these tools will only be shown if you have over 25 servers, keeping it clean for everyone else.
Artem and Eugene implemented the search to be client side, ensuring extremely fast response and filtering. If your account has over 100 servers, we'll switch to server side searching to reduce the initial load. Both Artem and Eugene came up with a smart solution to handle various conditions.
Oh, did I mention all new graphics are ready for retina-quality displays? That was one area where our design was lacking, so we took care of it as well.
I hope you like it! Let us know if you'd like to see anything else.