Welcome Email Redesign: Freckle Time Tracking
Welcome to Freckle! #
We recently had the pleasure of working with Amy Hoy and Thomas Fuchs from Slash7 on a redesign of their welcome email. Their time tracking tool for freelancers, consultants and small teams, Freckle, has an awesome design. The welcome email, however, was plain text and too boring compared to the rest of the product. We offered to take a go of it and redesign their email welcoming free account signups. Here's what we did, and why!
Before #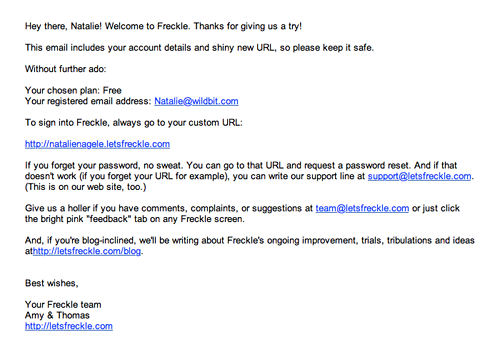 Even though the email was plain text, the copy in it was great. Clearly, the important information was visible and a great reference. The language was consistent with the application's style and voice.
We did think that there was room in the email to promote some of the paid features to help up-sell free customers. We also wanted to explain a bit more about the purpose of the product and make the email searchable for easy reference later.
After #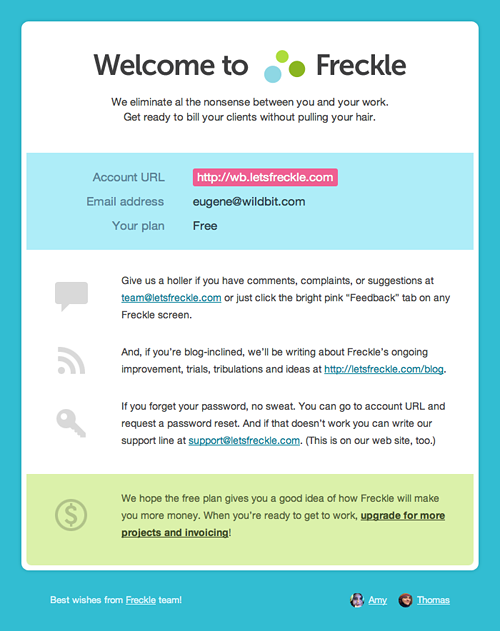 What we changed:
Isolate call to action: The first thing we did was pull out the purpose of the email, your Account info (domain, email address, plan) and made it stand out the most. Bringing attention to what needs to be done is important in any design.
Summarize the app: We added some short tag lines to remind you what you signed up for and why. Two reasons for this: it's a great place to reaffirm your purpose and brand, and also remind people who you are so they don't click Spam if they checked their email some time later.
Nice visualization: We kept the contact information from the original email but added some icons to quickly draw your eye and better separate the blocks. A pretty email is always a pleasure to receive.
Up-sell: We added some up-selling details on why you want to start paying for Freckle. We kept it at the bottom, since it's not the most important part, but highlighted to draw attention. Don't forget to use your transactional email to communicate important information to your existing customers.
All this wrapped in bright, vibrant colors consistent with the look and feel of their entire brand. Notice Thomas and Amy at the bottom!
We're really excited about this redesign. Freckle has such a fun, exciting feeling throughout, we wanted very much to keep that. So often we see transactional emails overlooked and the voice of the app not carried through. In this case, you feel like the email is coming from the same people who bring you the site you love.
As of this post, Freckle no longer offers a free plan and they'll remove the up-sell block when they take this redesign live. We wanted to keep it for learning purposes since many of you have freemium models.