Example of a great email - Returning a purchase
Gilt Groupe, an online discount retailer, is one of my favorite places to shop. Recently, I returned a purchase (sadly) and yesterday I received my return confirmation email. Here are my notes on why it's a well crafted and designed email.
Subscribe to be notified when we share more transactional email examples.
Subject: #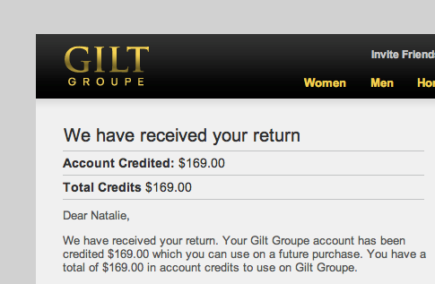 I've said before that sometimes the best transactional email is one that tells you everything you need without directing you to log in. An email about your purchase Return should do exactly that. The subject in this case told me exactly what happened. As long as this is the only return I've been expecting, I don't even need to open the email. A win for me and my battle with my Inbox!
Content #

This particular return gave me an account credit with Gilt. Very clearly, they show me how much was spent and how much credit I now have in my account. This helps me to see if everything is as I expect it. Of course, quick links to my account and to contact support are right there if I need to learn more or inquire about something.
An image of my return is just an added bonus, and I love that. They realize that I may be returning many things, or that I may not remember what that particular item looked like. Showing me exactly what they received from me just helps me from needing to do any additional action.
Getting me to the site #
You may argue that a Return email shouldn't contain any sales pitches. Most days I'm inclined to agree, but in this case I think the ads on the side of the email for items that might interest me are perfect. My return did not give me my money back, instead I received a credit towards a future purchase. What better time to show me something else I might want. I like to spend my credit soon since I've already paid for it, and showing me these in my email is a great way to get me there. Obviously, from Gilt's perspective, they want me to use that credit ASAP so I can get back to spending more money.
Summary #
Overall, the email is so clean, simple and to the point, that it furthers my admiration for them as a brand. They give me exactly what I need, with no fluff. They respect my time and help me avoid logging in, but also encourage me to do so if I want to spend my credit. Well done!