Redesigned statistics and activity updates
This morning we launched a big design update to the server statistics page. It's been a long time coming, but it's only the start of what's around the corner.
Better analytics #
From the server statistics page you now have a much better overview showing you detailed information for each day, as well as a custom range of dates. You can see the total emails sent, bounces, spam complaints and even specific bounce categories to keep an eye on trends and issues.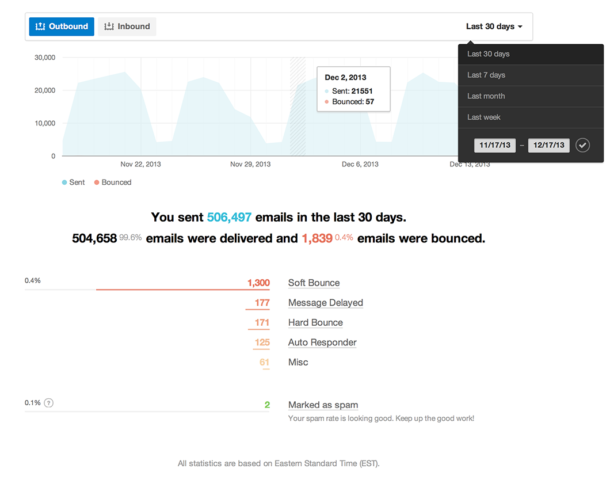 In addition to better statistics, we now let you click on the specific day in the chart, which brings you directly to the activity timeline for that day.
For those of you who use Inbound only, we will default to the inbound view. This is a small change, but will be a noticeable improvement. It was pretty annoying for Inbound only servers.
Activity updates #
We also had the chance to make improvements to the message activity timeline. We decided to completely remove pagination and opted for an infinite scroll instead. You can jump to a date, filter and search to narrow down results. As you scroll, more entries will appear. Since many accounts produce new messages at an extremely fast rate, this point in time navigation will feel a lot smoother.
For now, the infinite scroll is not entirely infinite. We capped it at 1000 entries since most people use search and filters. Also, as new messages come in, you will see a notice at the top of the page that there are more records.
We'd love to hear feedback on how you use activity. We tried to cover most scenarios.
Around the corner #
While this is an awesome update, what we have coming around the corner is even better. Here is a sneak peek!