New Postmark System Status Dashboard
We work very hard to keep Postmark reliable and available for our customers, but sometimes things go wrong that are out of our control. We do our best to communicate the details of any issues we're having, and make it a priority to prepare you for any planned maintenance or downtime.
Not everybody follows us on Twitter, and emailing our entire customer base isn't always the best solution either. So today, we're launching our new Postmark System Status page.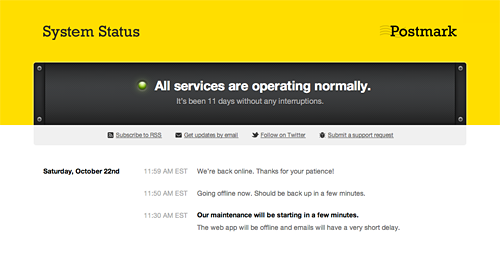 We'll continue to post updates to Twitter and provide our in-app notices. We'll still email you ahead of time for planned maintenance. But if you're ever experiencing a problem and want to know if you're the only one, you can now visit status.postmarkapp.com and look for recent updates about any known issues. If something is going on, the big banner on top will make that clear and the status updates below will provide more detailed information.
You can also subscribe to these updates via RSS in your favorite RSS reader, or even subscribe to email updates in your inbox if you prefer.
This is just one more step we're taking to make sure that you know we're working hard to provide an easy, fast, and reliable service for delivering your transactional emails to the inbox!