Editor's note: This guide builds on the tips from our transactional email guide that covers both content and technical best practices that apply to all of your transactional emails. It's a great primer for transactional email in general and will help make sure you get the most value from this guide too.
If you ask people to sign up for an account on your website, you probably send your new customers a welcome email. You expect a welcome email when we sign up for a new service, but there can be a wide gap in the quality of these messages. The best welcome emails get customers started on the right path and might be archived as little digital reminders of when we signed up for a service.
There are a few goals you can work towards and mistakes you can avoid to make sure your welcome emails are getting folks the information they need and guiding them on to successful next steps.
Onboarding vs. welcome emails #
Onboarding emails are very popular, but they aren't really welcome emails. They help customers understand and unlock important features and workflows, but that's more depth than you typically get in a welcome email. Welcome emails are more like little signposts that give you the basic info about your account.
Another key difference is welcome emails come immediately after someone signs up, while onboarding emails are spaced out over a few days or weeks. This guide is going to focus on how to build an incredible welcome email.
What are the goals of a welcome email? #
People know they've signed up for your service, so why should you send them a welcome email? You want to make sure your customer's experience is meeting their expectation, and this is one way to make sure everything gets started on the right foot. Here are some things the best welcome emails cover.
1. Set the tone for the new relationship #
Someone trusts your company enough to sign up and try your service, and your welcome email is the next brick in building more trust. Your welcome email should be personal. Personalization is a popular buzzword, and it's great, but using merge tags won't make your email personal. Think about the things your customers want to know about their account, and include them here. If they have a personalized login URL, like we use for Beanstalk, be sure to send them a copy of this URL in your welcome email.
Personalization is a popular buzzword, and it's great, but using merge tags won't make your email personal.
Freckle does a great job of making their welcome email friendly and useful. New customers get every bit of new account data they need, the date they created their account, and the plan they signed up to use. The copy isn't stiff, and they include pictures of the Freckle team to close out the email.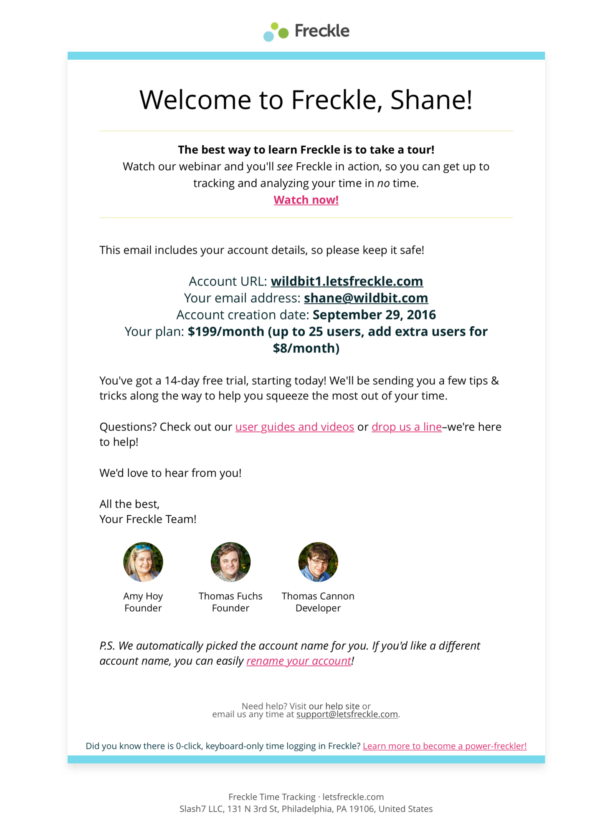 2. Confirm your new customer's email address #
Confirming email addresses can be passive, like collecting bounce information via a bounce webhook, or active, like asking folks to follow a link to confirm their email address. Using a passive check with a webhook gives you a chance to ask someone to update their email address from within the app with a notification bar if your first attempt to reach them bounced for some reason.
In the past, email confirmation often got set up as a separate email workflow. If you want to confirm email addresses, you should try to include any confirmation steps in your welcome email.
3. Help your customers solve their problems faster #
It's tempting to give new customers every scrap of info they need to get started in your welcome email. Laying out all the possible steps to get started with a new account can be overwhelming. Instead of including multiple action paths, carefully consider the next action your new users can take to start solving the problem they've trusted you to solve.
If you're confirming a new customer's email address, make that the single action for this email. When you take them to your site to confirm their email address, include the next steps you want them to take on the confirmation page.
Regardless of where you send new customers from your welcome email, the next step should be something like a page of resources, asking your new user to add their team, or diving right into an important action. If you already point folks to your next step from your app use your welcome email as an opportunity to reinforce this action.
What are some common mistakes with welcome emails? #
The exact traits of the best welcome emails can vary, but there are a few things every welcome email should avoid.
Sending passwords in email #
Some companies still store un-hashed passwords and send those passwords in emails. Or, when you request a password reset, they generate a new one and email it to you. Passwords should never be stored unhashed, much less sent in an email.
Ever.
Even if you ask someone to reset their password after they log in for the first time, you shouldn't email a password in any part of the process. Instead, you should send a temporary link that the recipient can use to reset their password. That implementation is beyond the scope of this guide, but Troy Hunt has an excellent guide on the ideal implementation for a secure password reset feature. Beyond all of the security problems and best practices sending a password in an email ignores, your security-minded customers will ask themselves if they should trust you with their payment info and other sensitive data.
Spreading focus too thin #
When someone signs up for your service, they are looking for help with a job that needs to be done. They don't want to spend hours deciphering what they should do next. It's important you make it really clear what steps new users need to take next, but you have two great places to guide people through your user journey. Use your website and onboarding email series to give customers manageable chunks of info.
AdWords is a powerful tool, but their welcome email is overwhelming. You get your account ID, and then step-by-step instructions to create your first campaign. Then there's a number to contact US support, with a link to numbers for other countries. Followed by a link to get started resources. And then at the very end, there's a paragraph about accounts that get investigated for fraud and how if my account is flagged it should be resolved in three days. But if it's not resolved by then, here's a link to click to follow up.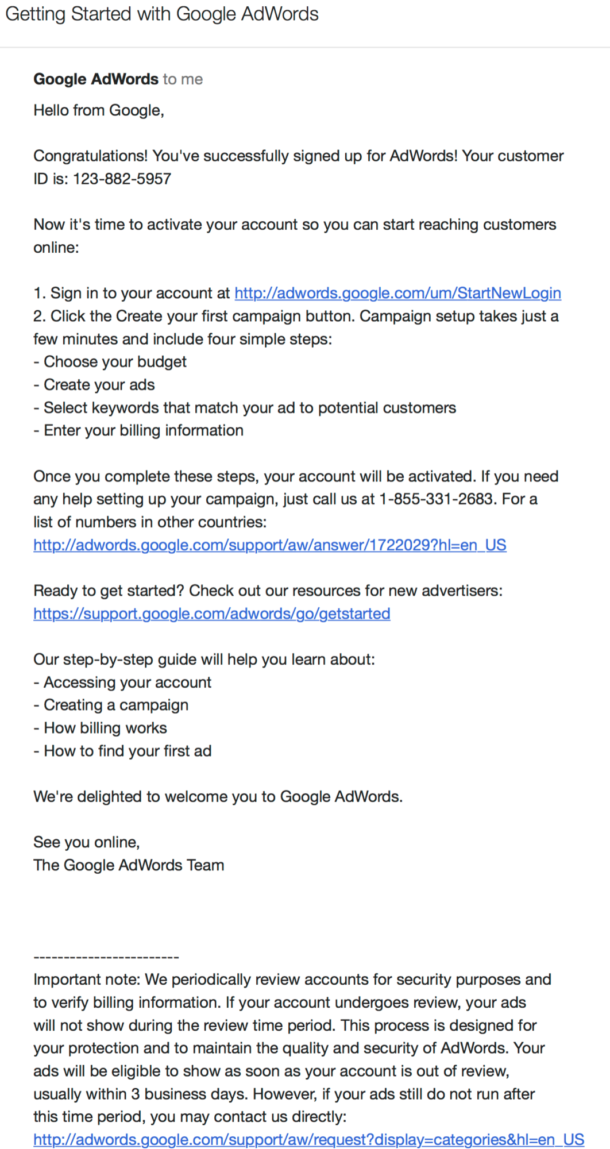 Sending more than one welcome email #
No one wants a colleague to send three emails on the same subject when one will do. Think of your company's welcome email the same way. Consolidate emails when you can. I talked a bit about confirming email addresses earlier, and it bears repeating you shouldn't send separate emails to confirm an email address and welcome folks to your product.
Making welcome emails entirely about your business or product #
It's tempting to make this welcome email about what a great choice your new customer just made. Folks are making decisions about how they feel about your product based on this email.
Don't make the mistake of sending a welcome email just asking people to tell you what they think of your product. You wouldn't go out on a first date and ask your date what you can do to improve the date before the appetizer shows up. Keep your welcome email focused on helping customers address the problem they are trusting you to solve.
What info should be in every welcome email? #
A good welcome email helps folks get started with your service or product, and a bad welcome email turns people away, either in frustration or anger. Sending a quality welcome email is worth the effort. With the basics we just mentioned covered, here are things you should be doing with your welcome emails.
Clearly state your product's name #
One common mistake happens when the product name and the company name are different. You might have seen this at one point or another. You create an account to try out a product, but you don't recognize subsequent emails because they're from the parent company of the product or the CEO. When this happens, people are more likely to ignore or overlook the email.
Make sure when someone gets this email there's a clear connection to the product the recipient will recognize. You can use the CEO's name in the welcome email, but make sure to say "Jane with ProductName".
A corollary to this would be to ensure that if those emails are coming from a person at your company, the replies should go to that person too. If not, then just send them from the product, not a specific person. People can begin to wonder when they believe they're replying and communicating with the CEO or product owner and they get a generic reply from a support person. If the CEO isn't on the other end of that email, then don't fake it. Just provide a useful support address as a reply-to and call it a day.
A friendly welcome message #
Be sure to start this message with a short note thanking your new customer for signing up for your service or site. While you're at it, cover the details of how your product is going to help them make what they're trying to do better or simpler too.
In certain scenarios, this could be a good time to briefly cover company information or background when it's relevant. If your app deals with financial information, include how you keep your customers safe. Keep this short and focused on how your company helps your customers and don't use this as an opportunity to tout yourself or your product.
In the same way, think about how someone is using your product before asking them to add your email address to their address book. Be careful when you ask someone to take this action. If a person is trying out your product, asking this might be a red flag that the email gates are going to be opened and email is going to pour forth into their inbox.
Their account details #
Like our friends at Freckle, your welcome email should give new customers all the details of their new account. That includes their username, login URL, plan type, and plan renewal or expiration date. This info might be available in your app, but if it lives in their inbox they can find it without having to hit your help docs or clickthrough your product to find it.
A clear next step #
Every journey begins with a single step. It's tempting to fire off multiple things for your new customer to do to help them get started right away. Set a limit for the number of things you want your customers to do after receiving your welcome email. This can be as a simple as confirming their email address or getting them back into your app to finish an important next step. Think through what next step will help your new customers successfully solve the problem they're trusting you to fix, and send them there.
It's tempting to lay out all the next steps they'll need to take in your welcome email, but avoid this temptation. You can build that into your web app or separate onboarding messages. Presenting it here can be a big distraction, and at best it's going to cause new customers to go back and forth between your app and welcome email.
If you offer a SaaS app, you might want to send a video to cover a few key tips to help new customers get started. Or, if you've built an app for their phone or desktop you might want to encourage them to download this crucial part of your experience. For anyone who runs an e-commerce business, you probably want to include a promotion of some kind. Something like free shipping or a coupon.
Whatever the next step, make sure you stay focused in your welcome email and move people to the next step so you can continue delivering them the value they're trusting you to deliver.
Share where your customers can get help #
When someone refers to their welcome email, there's a good chance it's because they have a question about their account. It may be about who they contact for support, or who to get in touch with about billing questions.
A few things you can link to for your customers include:
the right contact info. This might include phone numbers, email addresses, social media handles, or your physical address.
help documents, guides, and FAQs.
email subscription management tools.
click to chat.
The checklist #
And here's a quick summary checklist to help remind you of the individual points once you start designing and building your template.
Your product's name in the "From" address
A support email address for the "Reply-to" address
A friendly welcome message
Their account details (But no passwords)
Clear guidance for the next step
Information on where to find help

Managing email templates is a breeze with our Templates API
Choose from our range of responsive, well-tested, email templates or code your own.
Start a Free Trial
No Credit Card Required
Postmark's welcome template #
You can use the tips in this guide to build your welcome email from scratch, or you can use Postmark's open-source welcome email template as a quick way to get started.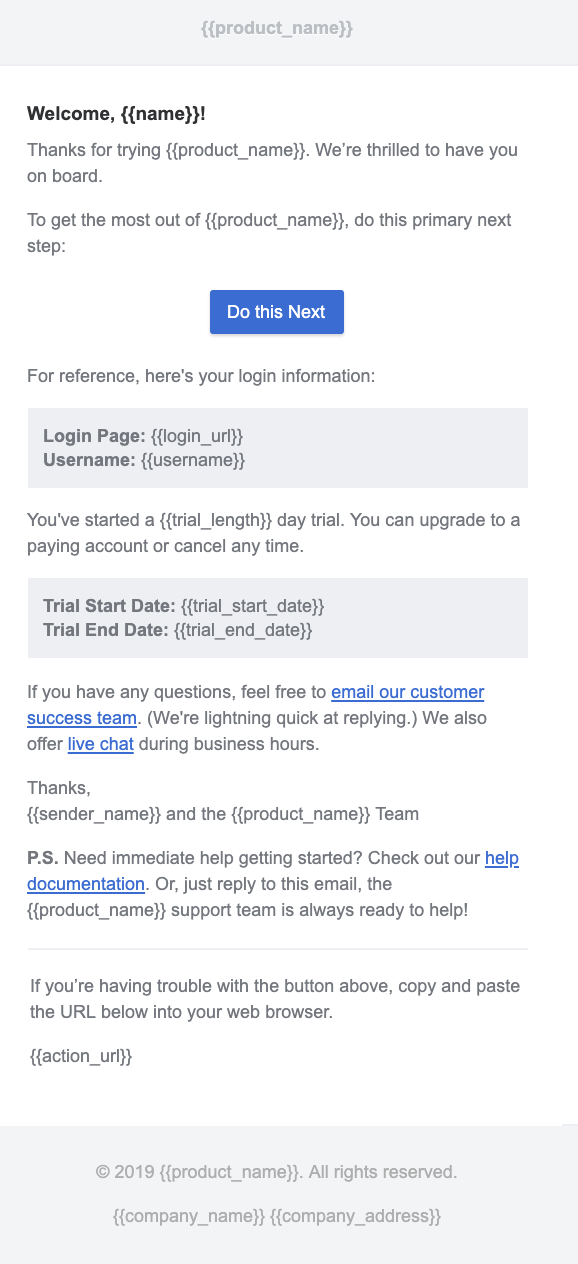 This template builds on all the best practices you've just learned and can be used with any email service provider, not just Postmark. You'll get the HTML template you see here and a nicely formatted plain text equivalent.
You can grab the welcome template and learn more about the rest of our template collection in their Github repository.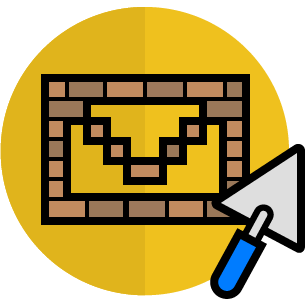 If you like Postmark's templates you should check out MailMason. It's a tool we've built to streamline every aspect of creating and maintaining your transactional email messages. Every Postmark template is included out of the box with MailMason. On top of those templates MailMason gives you the power of a Grunt-based email design workflow and makes it simple to maintain all of your transactional emails. You can use Mustachio to tightly integrate with Postmark's template engine, or adapt MailMason to your workflow for another email service provider.
We want to help you send incredible transactional email messages, even if you choose to use a different email service provider. If you have any thoughts on how we can improve MailMason, we'd love for you to share them in the MailMason repository on Github.
---
Read all of our transactional email best practice guides #
We've assembled a series of guides on best practices for multiple types of transactional email.