Editor's note: This guide builds on the tips from our transactional email guide that covers both content and technical best practices that apply to all of your transactional emails. It's a great primer for transactional email in general and will help make sure you get the most value from this guide too.
Not every application will need user invitation emails, but they're an important one to get right if you send them because they're the first impression for many. Done poorly, recipients won't trust this email and could very well report them as spam. Done well, however, they'll help new users seamlessly join in and use your software. These are people who have been carefully selected by your other users to join in. It's a key moment to make a great first impression.
User invitations vs. beta invitations #
There are two subtly different types of invitations. User invitations go out when an existing user invites another person to collaborate and then beta invitations are sent when your team explicitly invites people to come try your software. Those beta invitations are important, and many of the same principles below apply, but we're going to focus on user invitations for now since they'll be a part of your app forever whereas beta invitations are short-lived.
What are the goals of a user invitation email? #
1. Help them get started with your software #
The whole point of sending an invitation is so someone can get started. There's a lot more to that than asking them to create a password and login. There's a good chance that they're not familiar with your product. They might be wondering what it is, who sent it, or why they were invited? Helping them get started is also about giving them some context about why they should use your product.
2. Introduce your product #
It's possible that this is the recipient's first encounter with your product. Take a couple of sentences to explain what your product is and what it does so they're at least a little familiar with the product and will recognize future emails when they come in.
What are some common mistakes with user invitation emails? #
The biggest challenges with user invitation emails revolve almost entirely around skeptical recipients. With today's phishing and spam problems, many people are incredibly cautious about unexpected emails. While the invites will frequently be expected, that won't always be the case. So make sure to keep the following in mind.
Assuming the recipient expects the invitation #
While many invitations will be expected by the recipient, plenty more won't be expected. So sending a terse email with "Follow this link to accept the invitation" is more likely to trigger fears of spam or phishing if the recipient wasn't expecting it. It's imperative to make sure the copy and tone help provide the larger context for the invitation. We'll dive into specific details about how you can do this below.
Failing to explain what the service does #
Since the invitation is going to someone who may have never heard of your product, let alone understand what it does, it's useful to say hello and introduce your product. You may even want to include a link to the product website in some situations. If all else fails, this can at least give them context about the legitimacy of the email and increase their confidence the product and email are legitimate.
What info should be in every user invitation email? #
With the simultaneous goals of reassuring the recipient that the email is valid and then helping them get started with your product, invitation emails can be fairly straightforward. However, there are some subtle details that can really help in supporting these goals.
Who sent this and why? #
It's not fail-proof, but if you can include the name of the person who invited them along with a personal message from that person, it can usually assuage most of the recipient's fears. For example, you could include a single line to the effect of "Jane Doe from Acme, Inc. invited you to use Acme Application to help do work on Project XYZ."
This includes five key pieces of information to help provide the recipient with important context:
The sender's name is likely to be a name they will recognize. (Although this isn't always the case.)
The company name, if available, works well in conjunction with the sender's name. If they don't recognize the sender, they may have known to expect an email in relation to the company.
The application name often helps because the recipient may have been in a meeting and told to expect invitations to the application.
The application purpose can help if nothing else sounds familiar. They may know that a new project is starting and that this must be related to that.
The "project" name at the end is the final piece of the puzzle. It doesn't have to be a formal project, though. It could be something as simple as a board on Trello or just a Dropbox folder. The key is that this should be the name of something the recipient is more likely to recognize.
Ideally, this information would be followed with the verbatim personal message from the sender. That way, if nothing else rings a bell, the personal message can fill in the gaps to reassure the recipient that the email is legitimate.
Link to accept the invitation and create an account #
You probably wouldn't forget to add a link to the invitation, but it is important to remember that like password reset emails, you'll want to ensure that the link expires and that it can only be used once.
What is your product and what does it do? #
In addition to the core of the invitation, it's important to include information about your product. Just in case the person inviting someone isn't familiar to them, knowing a little about your product can help them be more sure if they were expecting an invitation for a product like yours.
A relevant reply-to #
Depending on how your product works, invitation emails are a great place to use "reply-to" addresses. In most cases, you can safely insert the sender's email address, and if the recipient is unsure and replies to the email, the sender will receive the question so they can help. Otherwise, you'll want to use a support email address for the reply-to value.
What's next after the invite? #
Once they've decided to accept the invitation, they'll need to learn how to use it. In most cases, once they signup, your application's onboarding can help them learn their way around, but just like the welcome email you send to account holders after they signup, these invitees could always benefit from having an email with the key information about where to log in, where the help documentation is, and how they can reach support if they have questions. This is where you would add an onboarding sequence customized for a new user that focuses entirely on using the application from the perspective of someone who isn't an administrator.
The checklist #
And here's a quick summary checklist to help remind you of the individual points once you start designing and building your template.
Sender name
Sender company (If applicable)
Project Name (if applicable)
Your product's name
Reason for the invitation
Link to accept the invitation and create an account
A relevant reply-to address for the sender or product support
Very brief explanation of your product and what it does
Some help information about what's next after they get started

Managing email templates is a breeze with our Templates API
Choose from our range of responsive, well-tested, email templates or code your own.
Start a Free Trial
No Credit Card Required
Postmark's user invitation template #
The tips we covered in this guide give you great guidelines for building amazing user invitations, but we wanted to do more than just give you guidelines. Which is why we've created an open-source user invitation email template you can use for any project.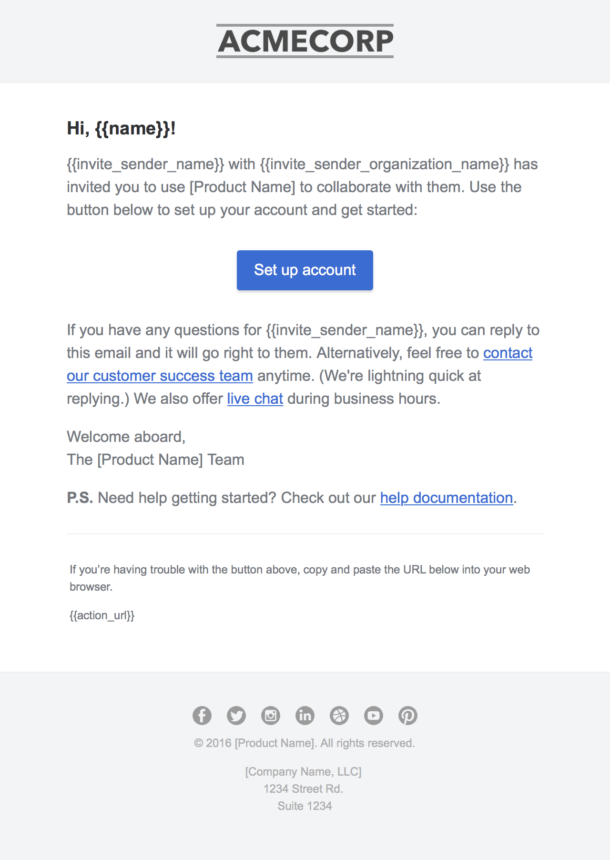 This template builds on all the best practices you've just learned. It can be used with any email service provider, not just Postmark. You'll get the HTML template you see here and a nicely formatted plain text equivalent.
You can grab the user invitation template and learn more about our free collection in our transactional email template gallery.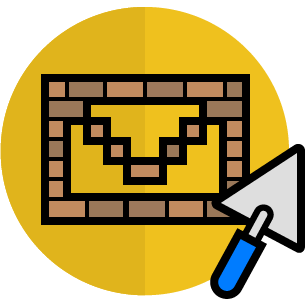 If you like Postmark's templates you should check out MailMason. It's a tool we've built to streamline every aspect of creating and maintaining your transactional email messages. Every Postmark template is included out of the box with MailMason. On top of those templates MailMason gives you the power of a Grunt-based email design workflow and makes it simple to maintain all of your transactional emails. You can use Mustachio to tightly integrate with Postmark's template engine, or adapt MailMason to your workflow for another email service provider.

We want to help you send incredible transactional email messages, even if you choose to use a different email service provider. If you have any thoughts on how we can improve MailMason, we'd love for you to share them in the MailMason repository on Github.
---
Read all of our transactional email best practice guides #
We've assembled a series of guides on best practices for multiple types of transactional email.