Time To Pet provides thousands of local, independent pet sitting and dog walking businesses worldwide with the tools they need to connect with their clients and grow their business—from scheduling appointments and sending updates to managing invoices and processing payments.
As a lean, scrappy startup, we depend on great partners to help us deliver a great product to our customers—and Postmark has been an exceptional, super reliable partner.

—Mike Grenier, Co-founder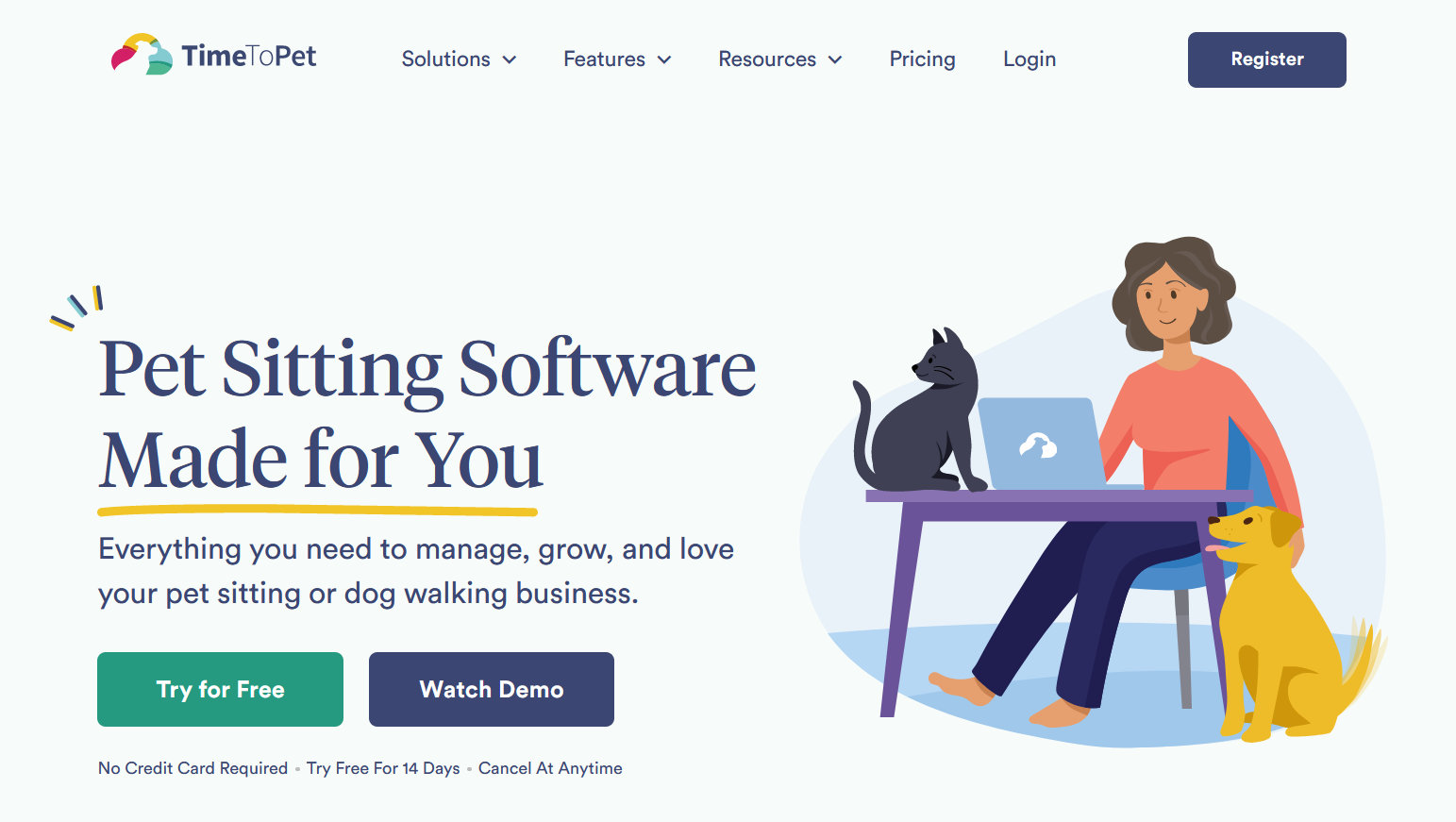 The need for reliable email
Connecting pet parents with the sitter or walker taking care of their pet is at the core of Time To Pet's business, and email is a crucial channel for building those connections. Time To Pet uses Postmark to process five million emails per month, the majority of which are client communications.
These might be post-visit reports or real-time notes and photos taken during a visit or a walk. Everyone loves pet photos, so you might not be surprised to hear that Time To Pet processes a hundred thousand photos each day, the majority of which are emailed.
"How was Fido on his walk today?" "Oh, he did great!" These reassuring email exchanges offer peace of mind to pet owners who might be at work, traveling, or on vacation. For Time To Pet, a reliable email infrastructure to enable these client communications is vitally important. Imagine what would happen if a pet sitter needed to contact the dog owner in an emergency but the note never made it?​​
Our customers' businesses run seven days a week—and they need their software products to be reliable. If someone doesn't get their expected email update while they're away during Christmas, they'll think no one came to walk their dog. That's a poor experience for both parties. It's important for us to make sure that our software is reliable, and we can only be as reliable as our partners. Postmark is at the top of the list and makes our life so much easier.

—Mike Grenier, Co-founder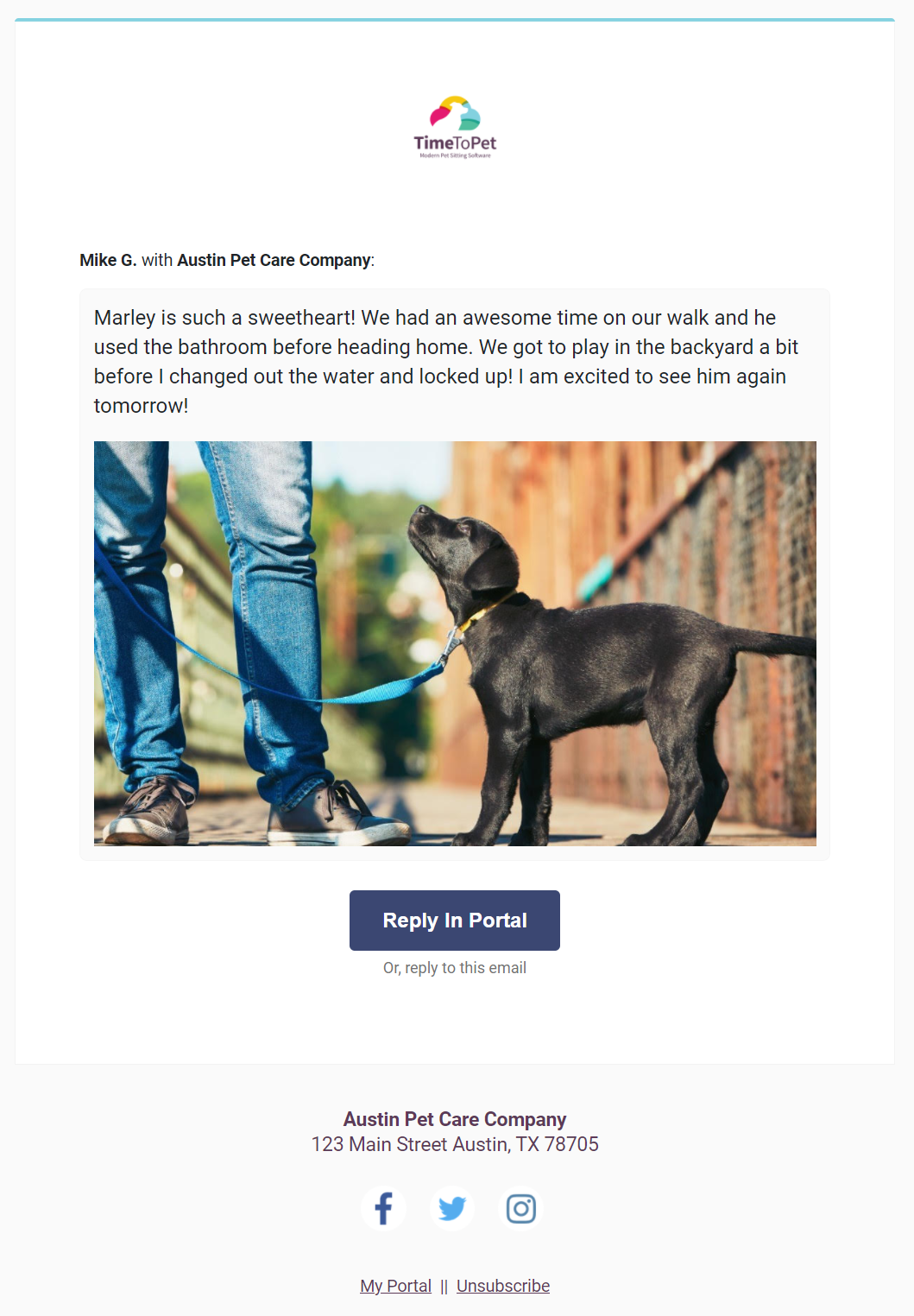 Postmark delivers when other providers don't
Time To Pet didn't start out using Postmark as their email solution. As a fledgling startup, money was tight and they went with the cheapest option.
Then their provider had a 3-day outage.
There was no communication, ever, from anyone, and we couldn't get a hold of anyone. So I immediately pulled the plug and started looking for alternatives. That was in September 2016. We've been with Postmark since then, and haven't ever had any issues.

—Kyle Thielk, Co-founder & Lead Developer
Kyle discovered Postmark when another company affected by the outage tweeted about switching to Postmark. However, Postmark was more expensive, and the cost was initially a concern as they scaled.
Ultimately, it was "definitely worth the money," says Kyle, and the integration itself was "pretty easy and seamless thanks to great documentation."
"A track record of reliability"
As a developer, what Kyle appreciates the most about Postmark is its "track record of reliability," which in turn means he doesn't have to waste time on email.
I never have to worry about Postmark because there's basically no downtime. With some providers, we're constantly having to pause our queues because they're down and then spend hours with customer support. With Postmark, that doesn't happen, so I don't have to spend time worrying about it. That saves time and headaches.

—Kyle Thielk, Co-founder & Lead Developer
Customer support that's human and helpful
A close second, says Kyle, is Postmark's exceptional customer support, especially "the ability to talk to an actual human." Their experience with Postmark's customer support is so positive they consider it a model for their own customer support team.
If we need to reach out to your support, which is not very often, there's always a friendly voice on the other side that makes us feel like you're taking the time to listen to our questions and give us a really thoughtful answer, which is not always the case when dealing with a software provider. We've shared the lessons that we learned from Postmark with our own support team so they can create the same experience for our customers.

—Mike Grenier, Co-founder
Thanks, Mike, you're making us blush! Our customer support team understands email forwards and backwards. But more importantly, we prioritize customer satisfaction. Other support teams measure success by the number of tickets they go through in a day; at Postmark, we look at what percentage of customer questions get resolved in the first response. In other words, whenever you have a question, we take the time to understand your problem and provide a thoughtful response so you don't have to keep following up.
The ability to check message history
A feature that's been very useful for Time To Pet's customer support team is the ability to go into Postmark's activity tracking and see why an email didn't get delivered. A pet care business may have a thousand pet parents as clients, and with that kind of email volume, it's not unusual for a few to bounce.
Fortunately, when a pet owner contacts Time To Pet, the customer support team can check what happened and provide accurate feedback.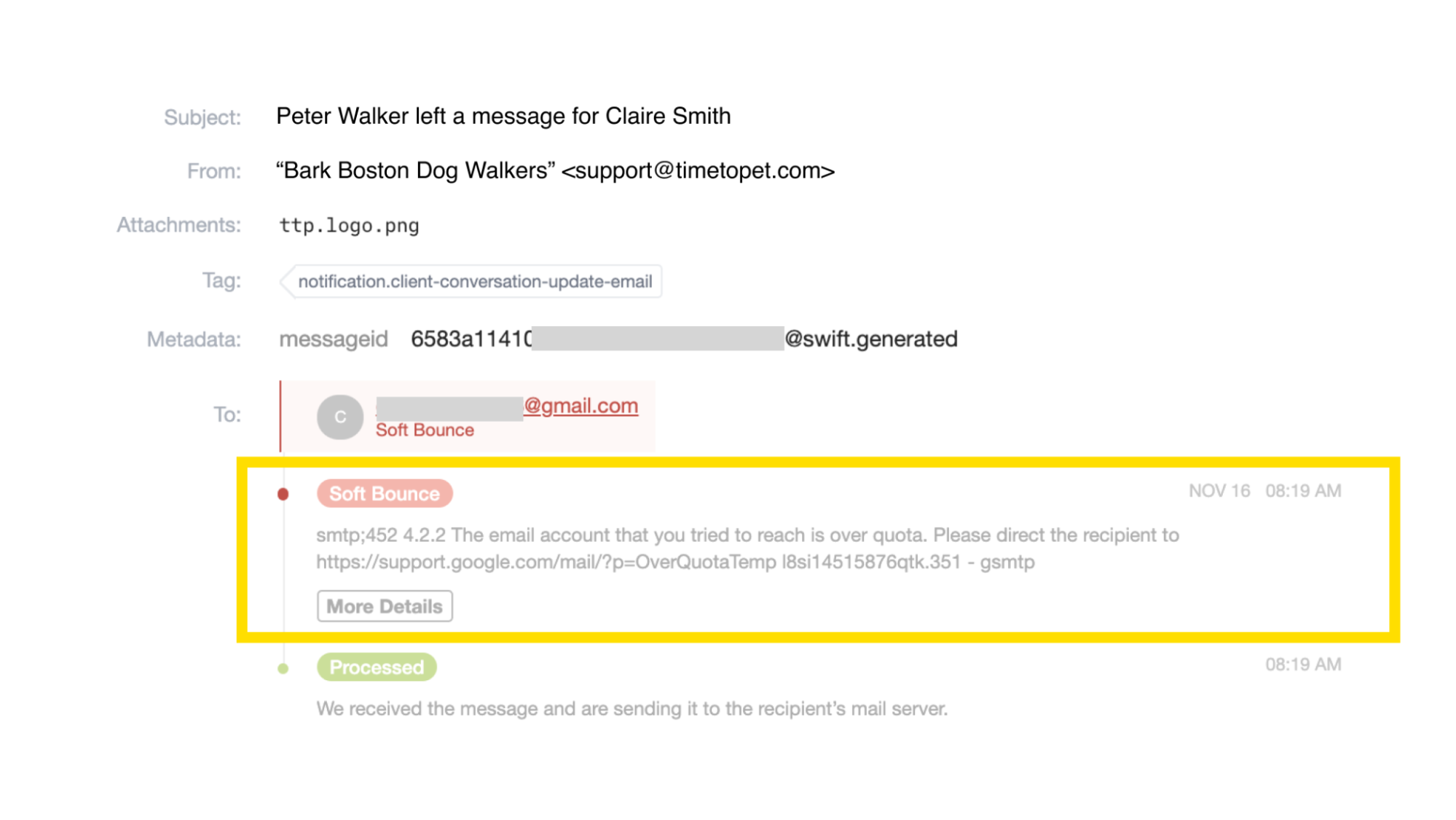 Our support staff being able to look up the status of an email and see why it didn't go through is another huge time-saver. It's super easy to check why an email bounced—maybe the recipient ran out of storage space, or the email address doesn't exist (probably because of a typo).

—Kyle Thielk, Co-founder & Lead Developer
Time To Pet can then share that information with their customers and provide suggestions for how to fix the issue so that future emails from the pet sitter will make it to the recipient again.
Out of sight, out of mind?
The last thing most businesses want is to be out of sight and out of mind for their customers. But you know what? We take great pride in being so reliable that our customers never have to think about their email delivery again.
Some of our partners are more reliable than others, and Postmark is at the top of the list. It makes our life so much easier to not have to worry about email. We can spend our time growing our business instead of being in the trenches, trying to fix things.

—Mike Grenier, Co-founder
We don't really think about Postmark, which is a good thing. Like a really good thing.

—Kyle Thielk, Co-founder & Lead Developer