Postmark welcome email templates: Design and best practices
Editor's note: We recently released and wrote an all-new guide that dives deep into modern welcome email best practices.
---
Following the release of Templates, I'd like to introduce the second open source template we've created for Welcome emails. Just like in our Password Reset email, we tested and designed a simple, yet highly effective template you can easily port into your app. So if you're starting something new, or just feel like exploring the effectiveness of your existing application emails, use this template to see great results.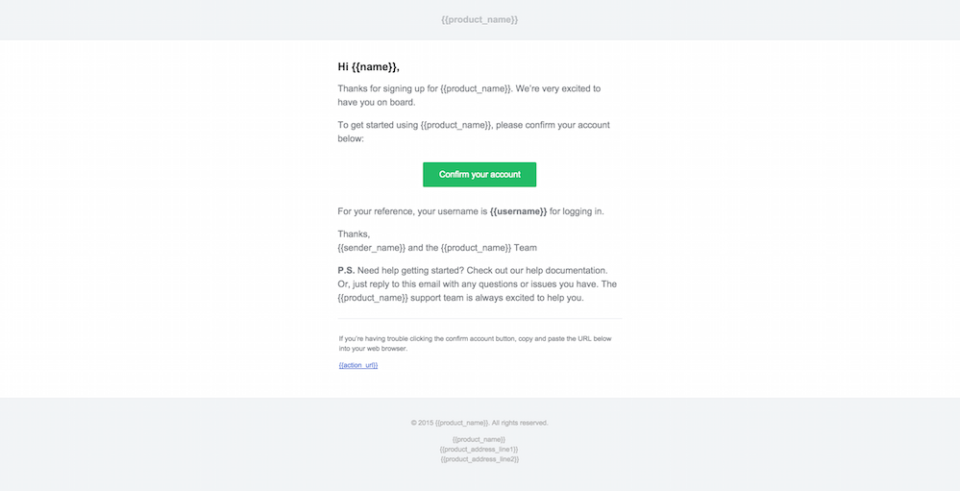 What makes a good welcome email? #
Based on our research, we created some basic guidelines for sending good welcome emails:
Have a clear From name and subject line that reiterates the product or service. Also, think about creating an enthusiastic subject line to give new users a warm welcome, but always keeping with your product's tone.
Greet the user by name (or username) to build trust.
Include a brief description of the product toward the beginning of the email to remind new users why they signed up.
Give new users links to resources that will help them learn how to use the product.
Encourage users to reach out to customer support if they have any questions.
If your product has a free trial, remind users when it ends and what happens afterwards.
If you plan to send users a series of educational drip emails, let them know in the welcome email.
Don't use a no-reply@example.com email or something similar as your from address.
The Research #
In order to really create a template that was clear, effective, and secure we researched welcome emails from companies we respect. These emails became the backbone of our template. Below you can see what we liked and what we would improve in each one.
Airbnb #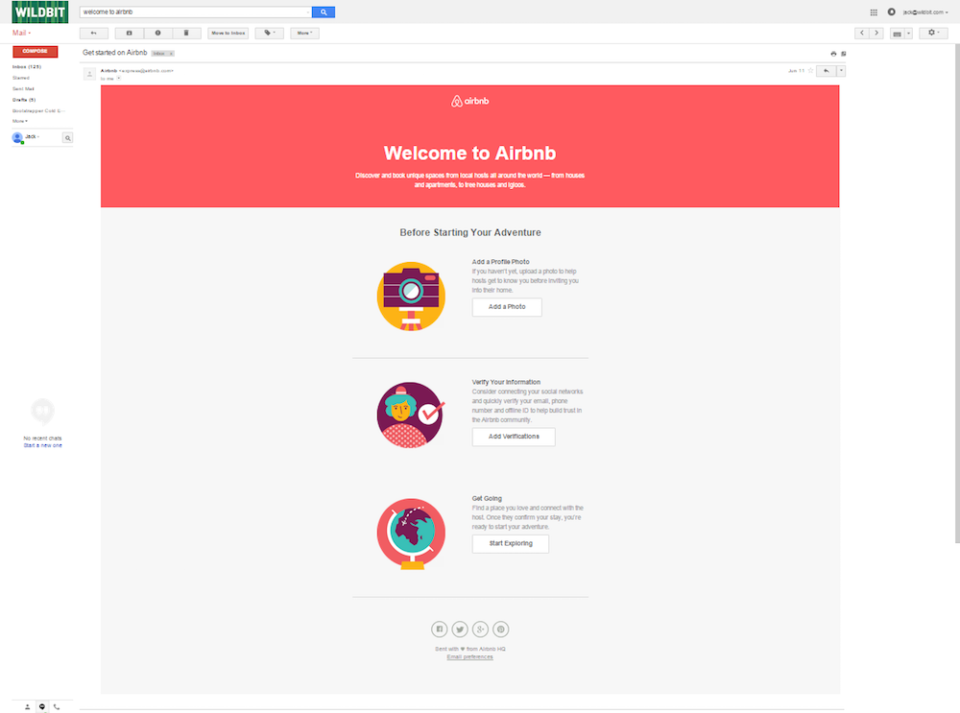 + Clear Subject line and From name
- Greets the user by name
+ Includes brief description of the product
+ Gives users links to resources that will help them learn how to use the product
- Encourages customers to reach out to customer support if they have issues
+ Tells users if they'll be sent an educational drip email campaign
+ Doesn't use a No-Reply@example.com email address
+ If the product has a free trial, email reminds users when it expires
Quip #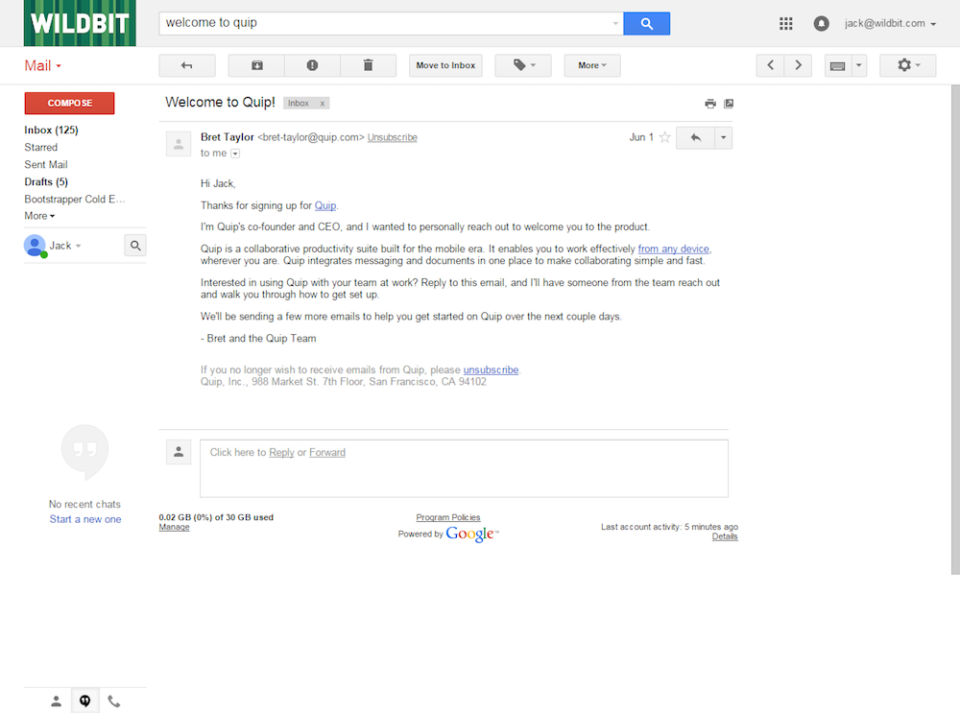 + Clear Subject line and From name
+ Greets the user by name
+ Includes brief description of the product
+ Gives users links to resources that will help them learn how to use the product
- Encourages customers to reach out to customer support if they have issues
+ Tells users if they'll be sent an educational drip email campaign
+ Doesn't use a No-Reply@example.com email address
+ If the product has a free trial, email reminds users when it expires
Zapier #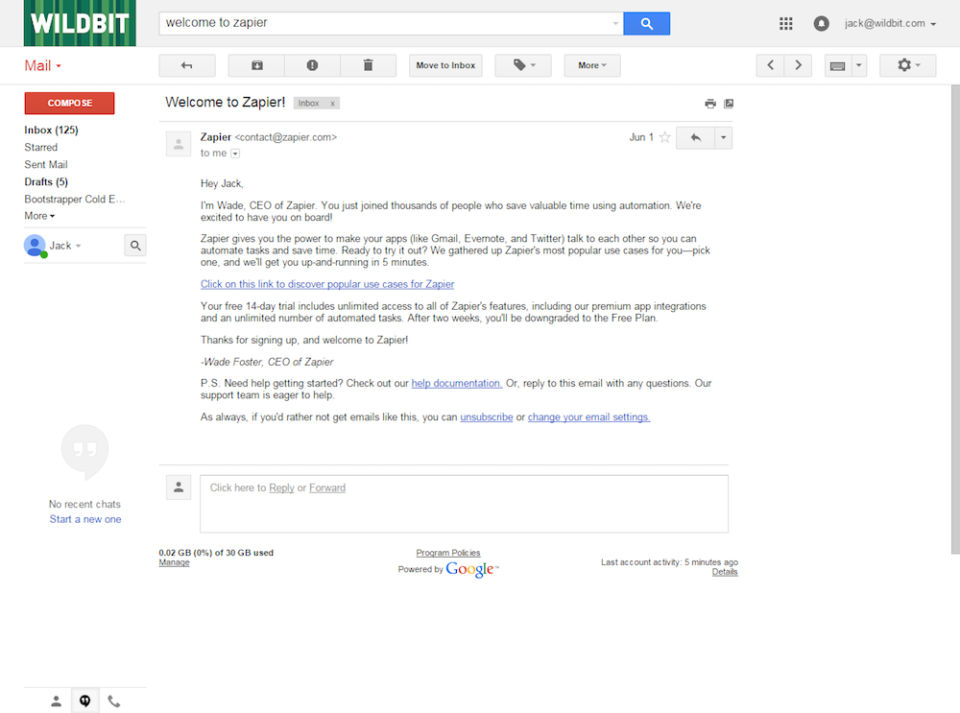 + Clear Subject line and From name
+ Greets the user by name
+ Includes brief description of the product
+ Gives users links to resources that will help them learn how to use the product
+ Encourages customers to reach out to customer support if they have issues
+ Tells users if they'll be sent an educational drip email campaign
+ Doesn't use a No-Reply@example.com email address
+ If the product has a free trial, email reminds users when it expires
Trello #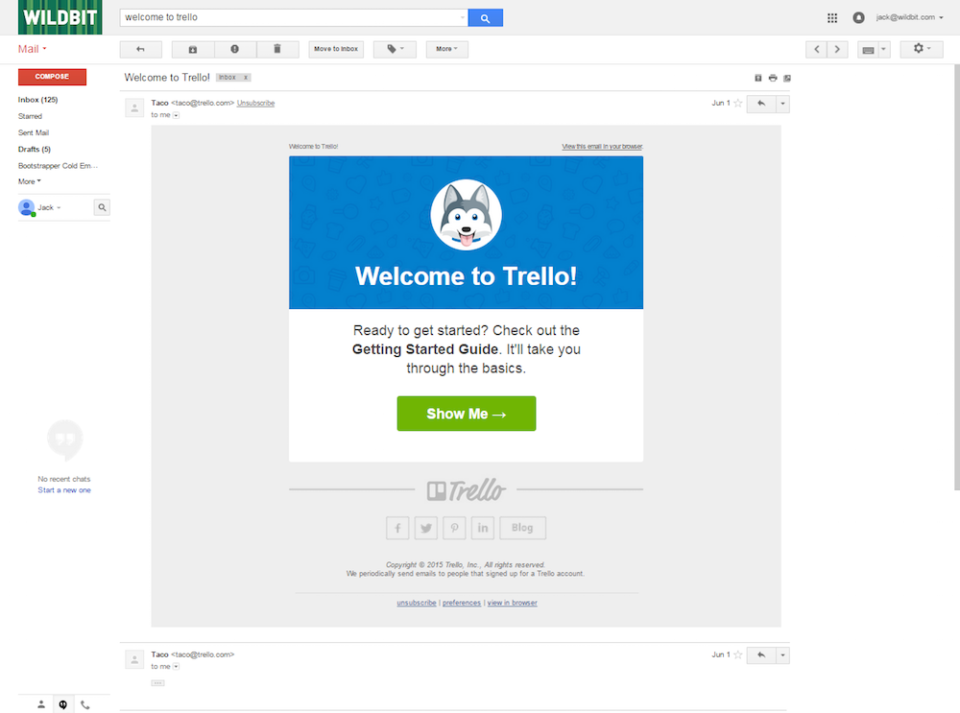 + Clear Subject line and From name
- Greets the user by name
- Includes brief description of the product
+ Gives users links to resources that will help them learn how to use the product
- Encourages customers to reach out to customer support if they have issues
+ Tells users if they'll be sent an educational drip email campaign
+ Doesn't use a No-Reply@example.com email address
+ If the product has a free trial, email reminds users when it expires
Gumroad #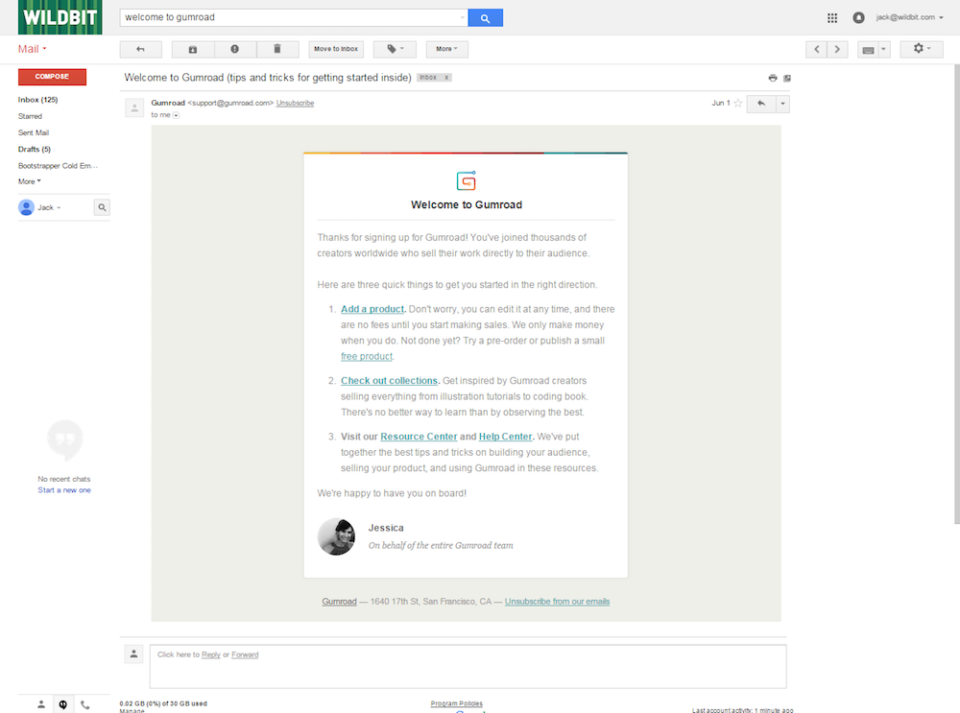 + Clear Subject line and From name
- Greets the user by name
+ Includes brief description of the product
+ Gives users links to resources that will help them learn how to use the product
- Encourages customers to reach out to customer support if they have issues
+ Tells users if they'll be sent an educational drip email campaign
+ Doesn't use a No-Reply@example.com email address
+ If the product has a free trial, email reminds users when it expires