Preheader in Twitter's new follow notification
A few days ago I noticed a change in Twitter's follow notification emails. I didn't notice the change by viewing the email, but instead it was the drastically different "preheader" (that initial preview of text) in Gmail that made it obvious. While I think the new content is a big improvement, the way it displays in the preheader really messed me up. Let me explain:
Here is the way the preview used to look in Gmail:
Note: Private data is blurred such as name and username

As you can see, it made it really clear who was following me, but also which account they are following. I manage many Twitter accounts for our business, so it is important to know which account they are following.
Here is the way the new preview looks in Gmail:

On my screen resolution (macbook) it includes the name, but now when I scan my inbox I have no idea which account they are following.
This is an extremely subtle difference, but in my opinion, something that people fail to test when designing emails. Understanding how the preheader function works is critical to making sure your emails are opened. It's not just about the subject line anymore. For some more great info on preheaders, check out these posts from Email Marketing Reports and the Email Experience Council.
Some things I do like... #
I should probably mention some of the things I do like about the redesign of Twitter's follow notification email. Here are some highlights:
Member information design now matches the site
More member info, like bio and location (no need to click through)
Cleaned up the action items using bullets instead of a paragraph
Use of grey text to deprioritize secondary content
Here are the before and after screens. What other items could have been improved or what other benefits do you see?
Before #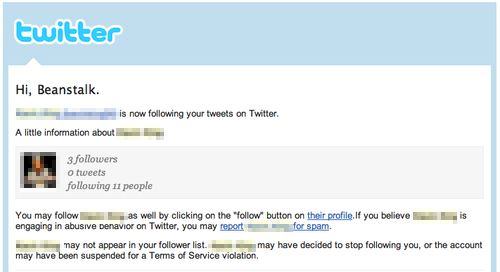 After #