5 Mailgun alternatives, recommended by... a Mailgun competitor?!
Can a list of software alternatives written by a competitor ever be unbiased?

You came here looking for Mailgun alternatives, and we at Postmark offer one of them. Since ours is the only email delivery service we know inside out, it's also the only one we can wholeheartedly endorse. So we are definitely biased.

...but that doesn't mean we can't be helpful. We know from talking to thousands of customers over the years that our product is not for everybody, and that might include you. Hopefully, you'll give Postmark a go after reading this page—and if it turns out it's not the right fit for you, we recommend that you check out all the other alternatives listed below.

Your 5 Mailgun alternatives for 2023 #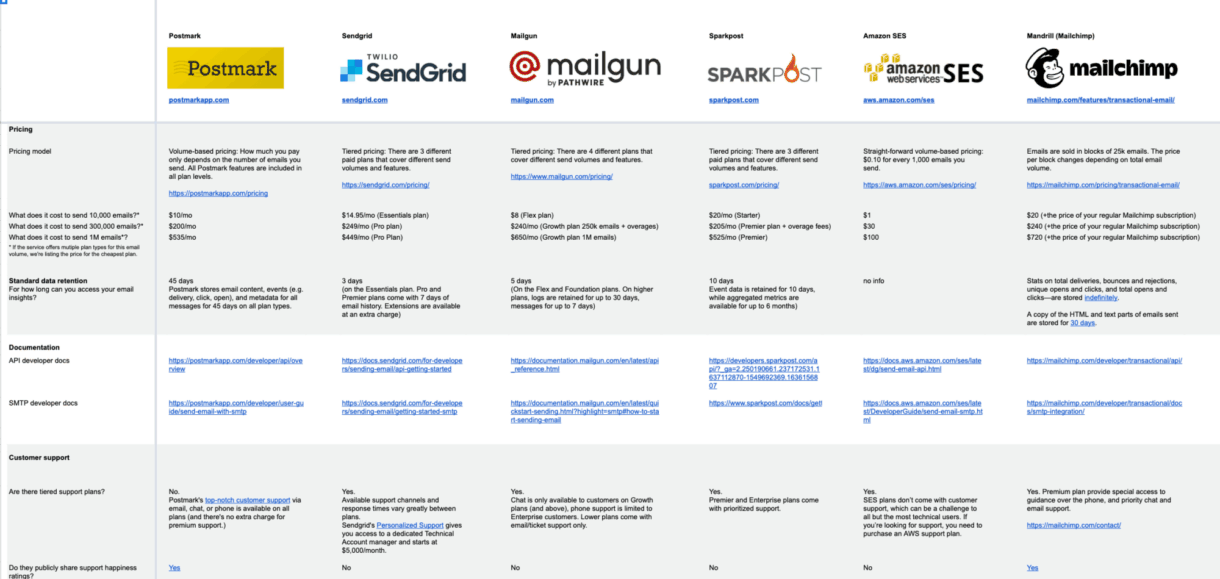 Here is a handy spreadsheet that helps you compare SendGrid and its main alternatives and competitors on data points like pricing, documentation, and customer support.

A note on methodology: we compiled this list by asking the most knowledgeable folks at Postmark, including our Heads of Product, Deliverability, and Customer Success, a simple question: 'Based on what YOU know about our customers, who they switch to and from, and the state of the market/industry, which providers would you name as valid Mailgun alternatives?'
We trust these folks to have the most deeply-researched, best-documented, and up-to-date answers.
1. Postmark (hi 👋)
#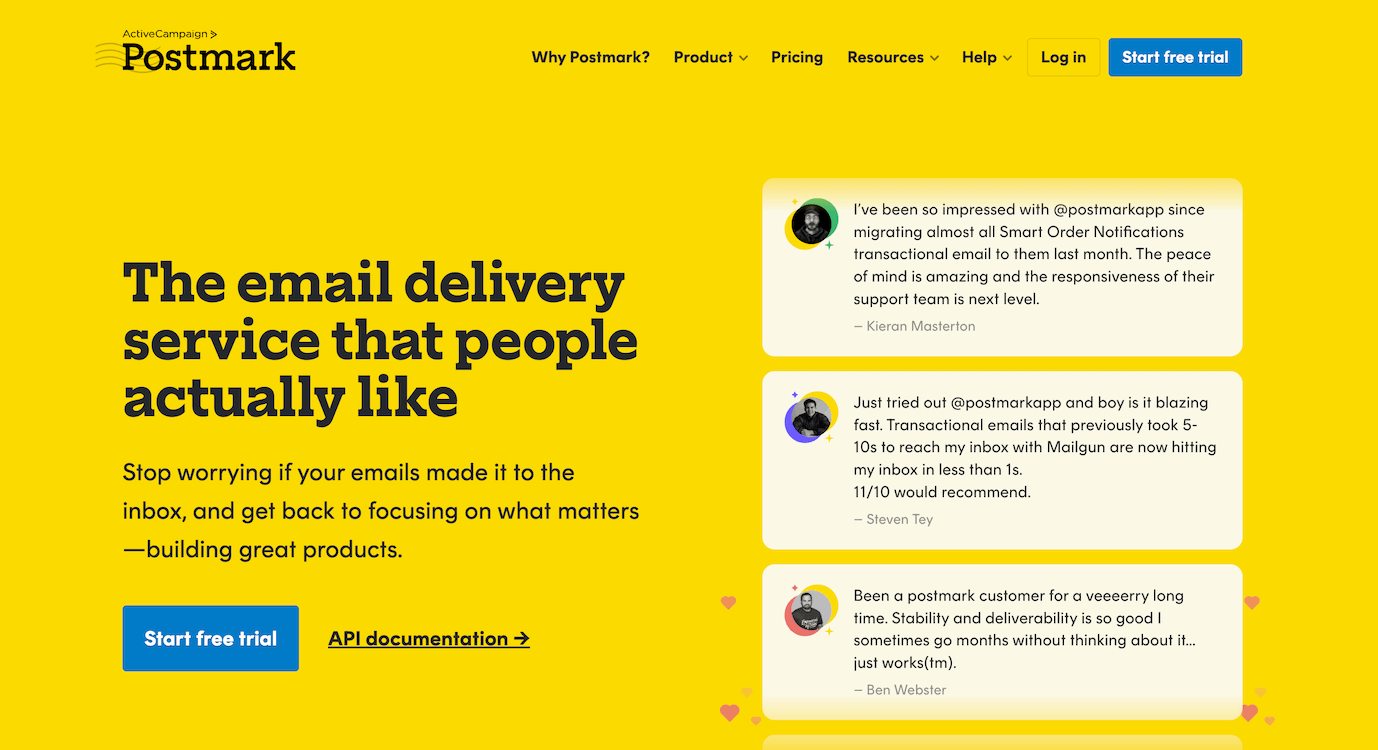 Our team launched our email delivery service back in 2009. For the entire first decade, we stayed tightly focused on transactional email only, and built a loyal following of customers who describe us as rock solid, nothing but amazing, and the best choice ever.

Since 2020, we expanded our sending infrastructure to allow our customers to send promotional and bulk emails (both via SMTP and API). What we do differently from everybody else on this page is keeping the marketing and transactional streams completely separate from one another, so the quality of our delivery for both transactional and bulk remains top-notch… unlike that of other providers, which often experience serious deliverability issues and occasionally even charge you to solve them (not cool).
👍 Pros #
Lightning-fast and reliable email delivery: Our entire business revolves around never losing a single email and ensuring that your transactional messages arrive quickly, not eventually. Speed is at the core of our work, and we are the only provider that shares delivery times publicly.


Promotional and transactional emails never mix: We separate marketing and transactional messages via a Message Streams feature, so the high deliverability of your crucial transactional emails is always protected.

45 days of data retention by default: each Stream's activity feed gives you full access to the data you need including delivery events, bounces, opens, and clicks for 45 days—and you can customize the data retention period from 7 to 365 days.

Transparent pricing and stellar customer service at no extra charge: we use a simple volume-based pricing, so how much you pay only depends on the number of emails you send. This means our top-notch customer support (via email, chat, or phone) is always available, with no extra premium charge.

Email templates: we include content-ready, responsive email templates and layouts for some of the most common transactional messages you might need (including welcome emails, password resets, receipts, invoices, and user invitations) that will look great in all major email clients.

Excellent documentation: we know that great documentation makes all the difference between a smooth implementation and a massive headache. You're in safe hands: our customers often rave about our user-friendly, easy-to-understand documentation that helps them get set up quickly.

We don't try to upsell you on dedicated IP addresses you don't need: one of our biggest email pet peeves is email delivery services that insist dedicated IPs are the only way to achieve great deliverability. We disagree.
👎 Cons #
Narrow focus: our primary focus is on email delivery, so we aren't an "everything service" like some of the other options on the list. For example, we don't offer SMS services or list management/ email marketing automation features out of the box.
We do integrate nicely with a lot of tools and services that do, though.
Postmark pricing #
Postmark uses straightforward pricing based solely on the number of emails per month. Here's a pricing snapshot:
Send 10,000 emails? $15/month
Send 300,000 emails? $245/month
Send 1 million emails? $695/month
💛 Friendly tip: a lot of services that look cheap on paper turn out very expensive when you add things like overages or premium support. FYI, Postmark is the only provider on the list that does not charge extra for premium support: excellent email, chat, and phone support are already included in all plans.
One final thing... #
We think you might like knowing that there are real humans behind this product, so here we are: a fully remote team who meets in person ~once a year, and likes to (poorly) Photoshop those who can't join us into our group photos so we're always together: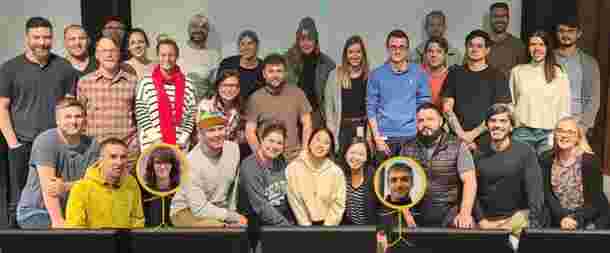 2. SendGrid
#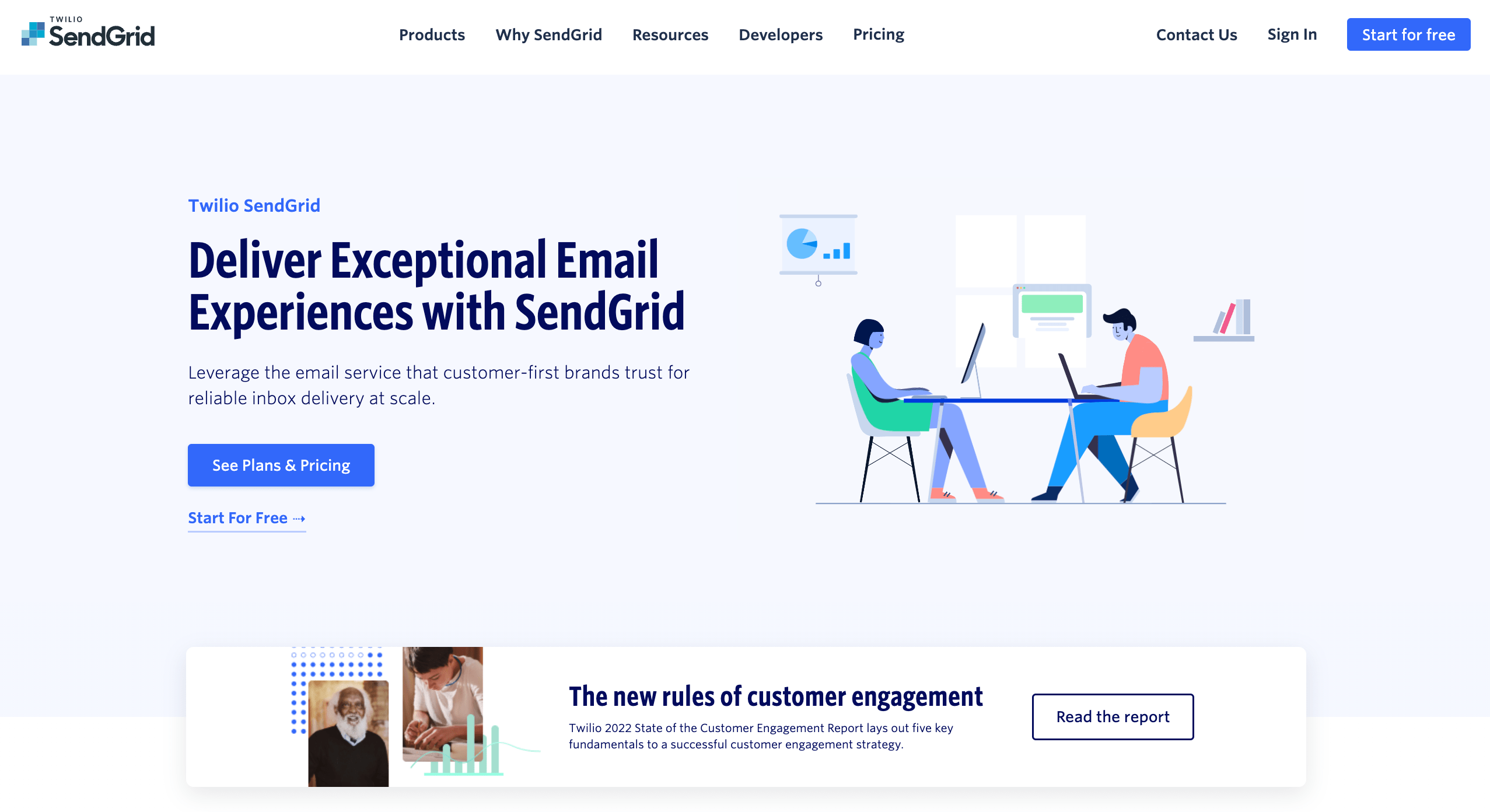 Much like Postmark, SendGrid has been in the email business for well over a decade. What started as a simple email API back in 2009 has grown into a full email platform that covers a wide range of services, including a large suite of email design, testing, and marketing tools. Plus, since it became part of Twilio in 2019, SendGrid's customers can find an even broader range of customer engagement tools including SMS and WhatsApp.

👍 Pros #
Veteran player: SendGrid is one of the oldest and largest email service providers out there (in 2022 alone, they processed 8 billion emails on Black Friday. That's... a lot!).


A powerful all-in-one service: Customers looking for an all-in-one service that includes customer engagement tools, marketing automation, and transactional email will find SendGrid to be an attractive choice—especially now that it's integrated with its parent company Twilio.
👎 Cons #
Deliverability is mixed: SendGrid's IPs occasionally see deliverability issues, which leads to mixed results for speed, quality, and reliability.

Pay more for better service: Customers who face deliverability issues are usually advised to upgrade to more expensive plans with a dedicated IP (we think that's not troubleshooting or customer service—it's upselling).

Choose your support level—"slow" or "expensive": Since the 2019 Twilio acquisition, some customers have been complaining about frustrating customer support experiences. Premium support is available, but that costs extra.
SendGrid pricing #
SendGrid offers four different plans with varying feature sets, send volumes, and customer support levels. Here, we're showing pricing for the most affordable plan per email volume, but you'll want to make sure to read the fine print and pick the plan that includes the features you need.
What does it cost to send 10,000 emails? $19.95/month (Essentials plan)

What does it cost to send 300,000 emails? $249/month (Pro 300k plan)

What does it cost to send 1 million emails? $602/month (Pro 700k plan + overages)
3. Mandrill
#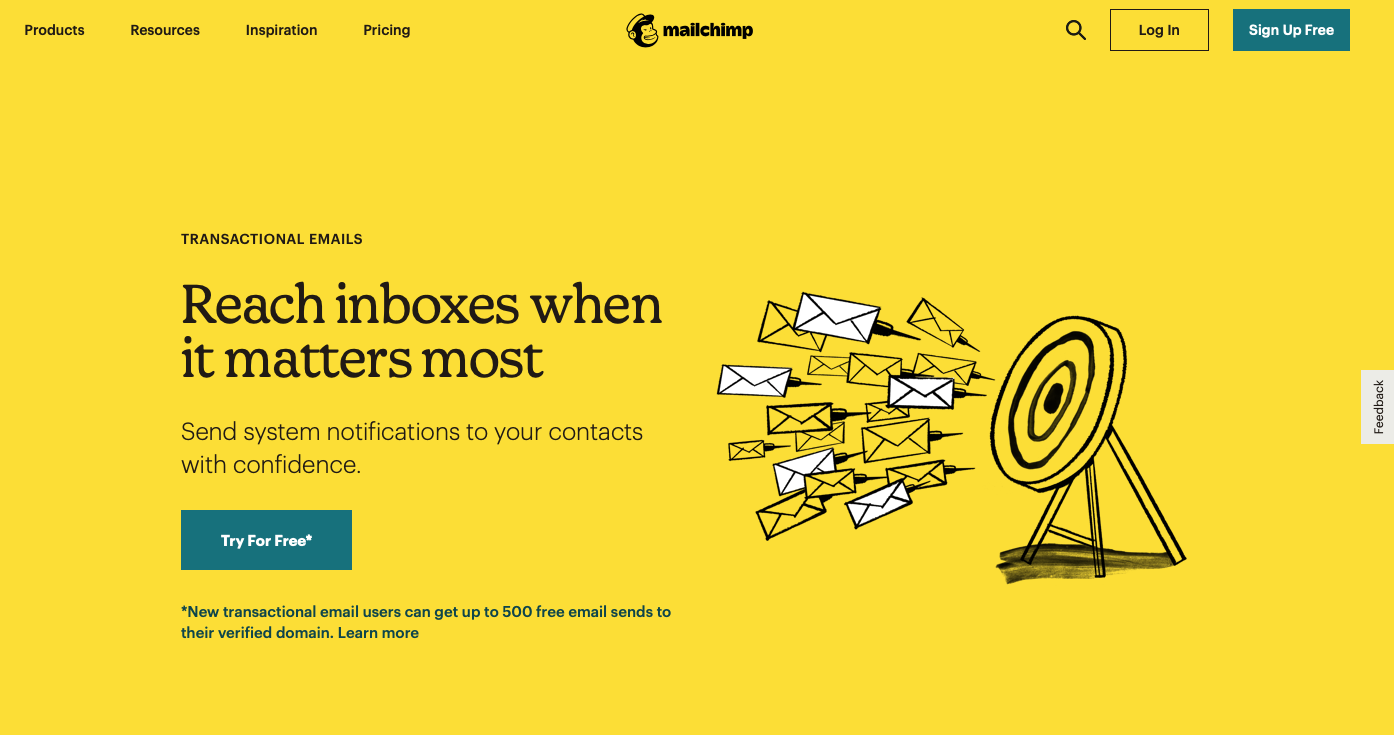 Mandrill might be a good solution if you're looking for a Mailgun alternative for your transactional emails and are either A) an existing Mailchimp customer or B) planning on becoming one. Mandrill used to be a standalone service, but it's now only available as a paid add-on to existing Mailchimp users.

(Important note: if you make your email provider decisions based on color palettes, we thought you should know that Mandrill and Mailchimp are yellow, but we were yellow first.)
👍 Pros #
One-stop shop: If you need it all—email, marketing, automations—the Mailchimp plus Mandrill combo gives you a well-integrated package.

Strong analytics: Mailchimp offers customizable analytics, including pre-built dashboards and an export API.
👎 Cons #
Lack of product focus: Mailchimp's main focus seems to be on email marketing automation; as an add-on, Mandrill doesn't seem to be getting the same amount of love.

Cost: Both Mailchimp and Mandrill are on the expensive side. And yes: you'll have to pay for both.
Mandrill pricing #
Bulk emails are sold in blocks of 25k emails, and the price per block changes depending on the total monthly email volume you're looking to purchase. This cost is in addition to a Mailchimp monthly plan, so make sure to combine the two for the most accurate picture of your email sending costs:
Send 10,000 emails? $20 (+the price of your regular Mailchimp subscription)
Send 300,000 emails? $240 (+the price of your regular Mailchimp subscription)
Send 1 million emails? $720 (+the price of your regular Mailchimp subscription)
4. Amazon SES #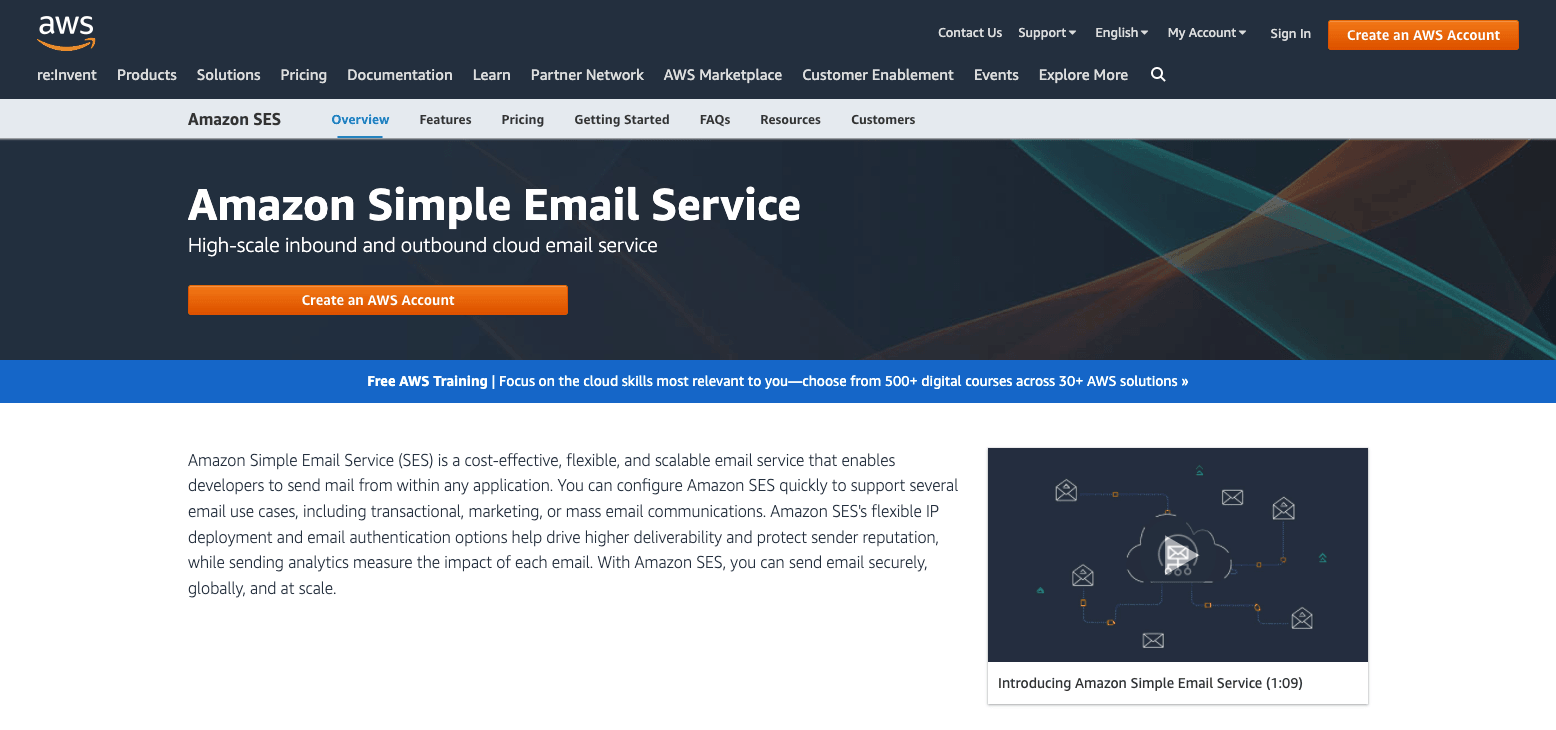 Amazon Simple Email Service (SES) is part of the Amazon Web Services platform and gives you exactly what the label says: an extremely simple and stripped-down service that can be incredibly cheap to run.

Of course, all of the above comes with a caveat. SES offers significantly less than the other providers on this list when it comes to features and overall functionality: for example, it won't let you track and monitor message events, so if you need crucial functionality like suppressing delivery to bounces and spam complaints… you're going to have to build it yourself. Which is not going to be cheap.
👍 Pros #
The cheapest option on the list: If price is your primary concern when looking for an alternative to SendGrid, you should know that Amazon SES is cheaper than any alternative service. Like, at least five times cheaper than everything else on this list.

Global reach and data sovereignty: Amazon's scope allows multinational businesses to place applications closer to endpoints; it also recently (Nov 2022) pledged to offer its customers "the most advanced set of sovereignty controls and features available in the cloud."
👎 Cons #
No support: SES-only plans don't include support from Amazon, so you'll have to troubleshoot on your own—which can be a challenge to all but the most technical users. AWS support plans are available, but they will cost you extra.

No deliverability insights: Amazon SES won't help you see if you are experiencing email deliverability problems. Did your transactional emails make it to the inbox? Were there a lot of spam complaints or hard bounces? You will likely never know—which makes troubleshooting and fixing deliverability issues very hard.

Requires a lot of manual work: because it comes with no out-of-the-box features, setting up basic functionality (like tracking and monitoring for message events) is labor- and time-intensive, which makes SES less of a bargain after all.
SES pricing #
Users with an Amazon EC2-hosted application get 62,000 free emails per month. Applications not hosted on Amazon Elastic Compute Cloud (EC2) generally cost $0.10 per 1,000 emails, plus $0.12 per GB of sent email attachments with pay-as-you-go pricing.
Here's what you'll pay when sending emails with SES:
Send 10,000 emails? $1
Send 300,000 emails? $30
Send 1 million emails? $100
5. MessageBird (formerly SparkPost)
#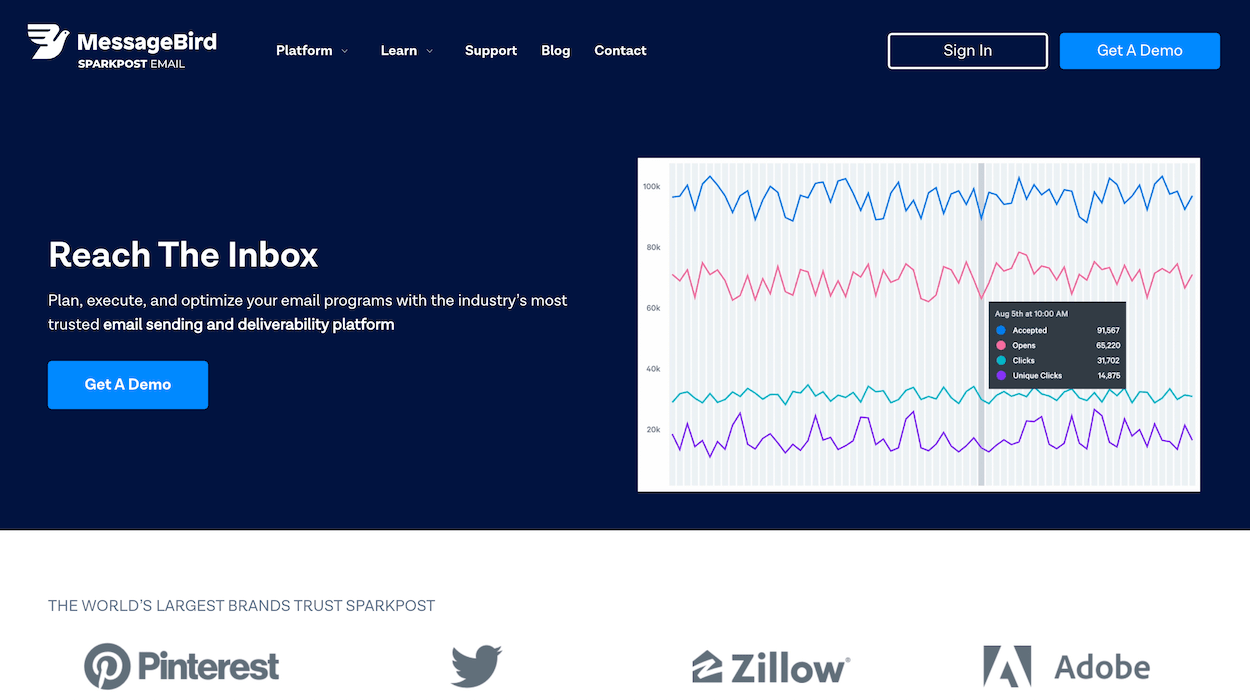 MessageBird, formerly known as SparkPost, claims to deliver nearly 40% of all B2C & B2B email, with over 6 trillion annual sends. This number is far too large for us to comprehend, but I think we can all agree that it sounds like an impressive amount of emails.

With enterprise-level analytics, competitive intelligence tools, and a focus on high-volume sending, MessageBird offers a selection of features that go beyond email delivery—in that sense, MessageBird and SendGrid are quite similar. If you run an enterprise business and/or work in a highly regulated industry, it will probably be a very good partner for your needs.
👍 Pros #
Committed to offering a reliable service: MessageBird has a 99.99% uptime guaranteed by SLA.

Detailed documentation: the comprehensive docs help users and customers navigate MessageBird's complex features.

Compliance and enterprise support: Companies in industries with specific security and compliance regulations will find what they need in MessageBird—but what's a pro for a company is a con for another. Speaking of which:
👎 Cons #
Focused on enterprise: since MessageBird is focused on providing everything the largest businesses could need, its complexity could be too much for smaller businesses and startups.
MessageBird pricing #
MessageBird offers three service tiers (Starter, Premier, and customized enterprise plans) that come with different features and cover different email volume levels.
Here's what MessageBird will charge you for sending your emails:
Send 10,000 emails? $20/month (Starter)
Send 300,000 emails? $205/month (Premier plan + overage fees)
Send 1M emails? $525/month (Premier)
---
We made it to the end, friends!
Here is the comparison spreadsheet once again: if you need to see it, just click on it ↓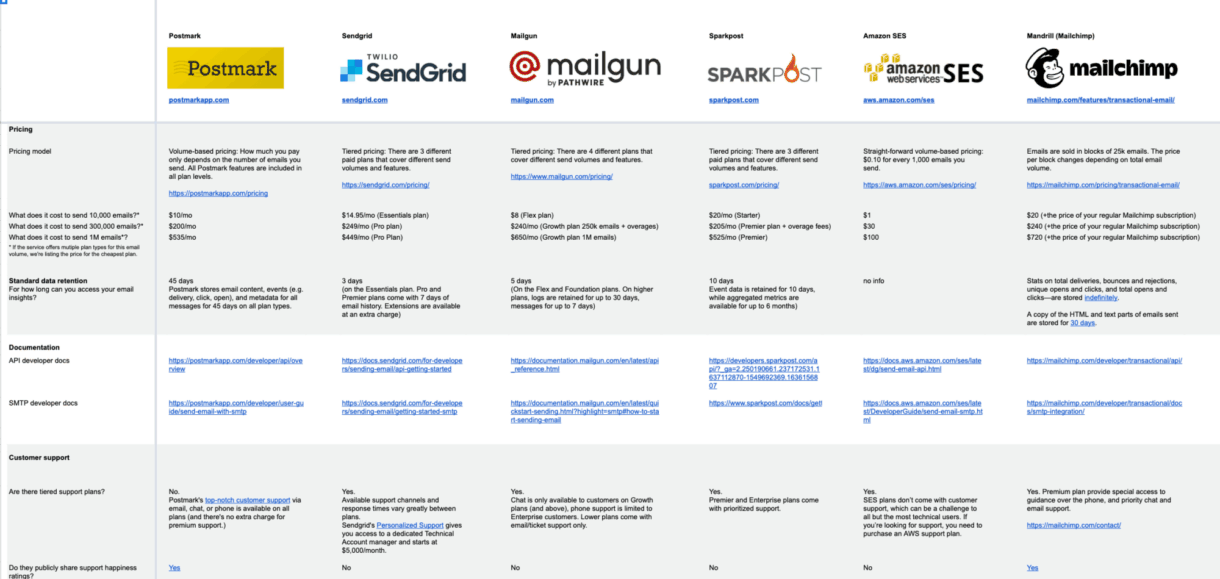 ---