How Apple's Mail Privacy Changes Affect Email Open Tracking
Apple's Mail Privacy Protection has arrived, and it's bringing major changes that anyone in the field of email marketing needs to know about.
With Privacy Protection, Apple is giving email recipients more control over what data they'd like to share with email senders.
This isn't exactly the end of email marketing as we know it, but senders will have less data about recipient behavior. And senders who currently rely heavily on open tracking and related strategies will need to pivot quickly. According to Litmus, Apple Mail pulls in more than 48% of email client market share, so the impact of this update will be widely felt.
Below, you'll find everything you should know about Apple's latest update, with a special focus on how it will impact email open tracking in the long run.
What is Apple's Mail Privacy Protection? #
Apple's Mail Privacy Protection (MPP) is a new set of features that allows users of the Apple Mail app or desktop email app to hide information about when, where, and how they open emails.
"Mail Privacy Protection hides your IP address, so senders can't link it to your other online activity or determine your location. And it prevents senders from seeing if and when you've opened their email."
Apple

When toggled on, MPP prevents email senders from seeing a user's tracking details, including:
IP address
Email opens and forwards
Time stamps (including those for open times)
Geolocation
Device type
Browser or platform
So how does MPP work? #
Let's look at Apple's MPP from two perspectives: what the end user sees, and what's going on behind the scenes that's relevant to email senders.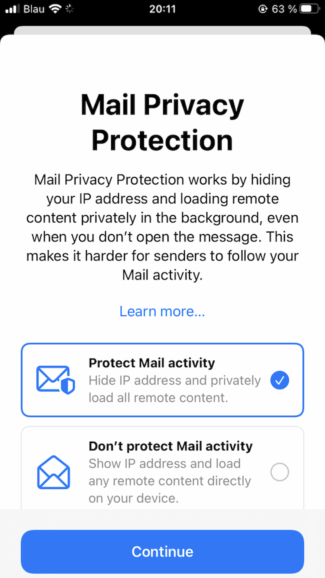 For existing Apple Mail users, MPP is a simple opt-in they can choose when first launching Apple Mail in iOS 15, iPadOS 15, macOS Monterey, or watchOS 8. For users with multiple Apple devices, the choice they make the first time will sync across all devices sharing that Apple ID.

Users may or may not understand the ramifications of choosing "Protect Mail activity," as their Apple Mail experience won't really change, but it should be clear that they'll have greater control over their email data.
For email senders, however, MPP creates a cascade of privacy-related changes which impact the tools email marketers and developers rely on for both promotional and transactional emails.
With "Protect Mail activity" selected, Apple doesn't deliver emails directly to users. Instead, the company routes emails to an Apple-managed proxy server, where the message gets preloaded. This preloading process downloads the images in the email—and that impacts a sender's ability to collect data about the recipient.
Why's that, you ask? To understand why Apple's proxy server is limiting the collection of email data, it helps to understand how email tracking actually works. So let's take a quick detour:

How email open tracking works #
Senders who're looking to collect insights about their recipients and how they engage with emails can do so by inserting a tracking image into their HTML emails. This is usually a tiny image at the size of a single pixel. It's invisible to the reader but once the image gets loaded, it can collect and pass on a bunch of information. That's because the pixel has a URL, and a part of its URL is a code that tells the tracking system that the email has been opened.
The thinking behind this system is simple: Only opened emails (ones that users manually interact with) will download the images and trigger this tracking process. The number of downloads of that tracking pixel, then, represents the number of users who opened the email and the number of times they read it.
Alright, now that we have an idea of how tracking pixels work, let's go back to how Apple's Privacy Protection effectively renders them useless: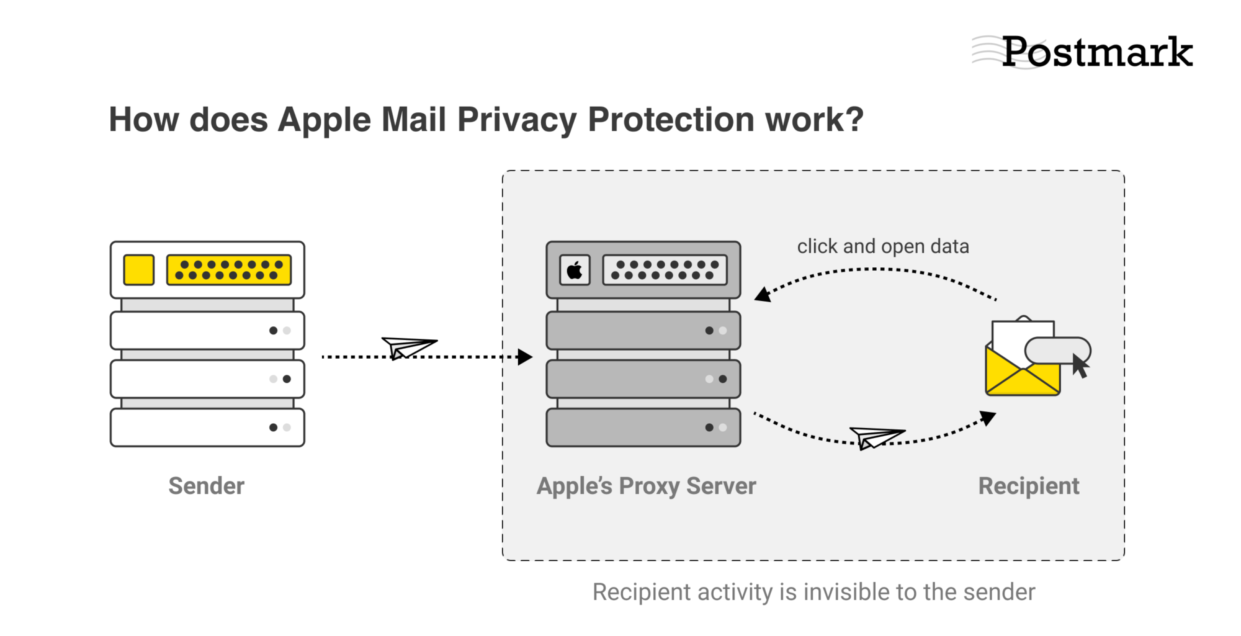 When a sender sends an email to an Apple Mail user, Apple caches the entire email on its own server. When doing so, they download all images, including tracking pixels. This action looks like an email open to the email service provider (ESP)—even though the end user may not have opened the email.
When the user chooses to open the email themselves, Apple Mail downloads the email from its own servers—not from the sender's web host or a server belonging to the sender's ESP. This means the recipient's activity is no longer visible to the email sender.
When did Mail Privacy Protection go into effect? #
Apple included its Mail Privacy Protection in all major OS releases for Q3 2021, including these:
iPadOS 15
macOS Monterey
watchOS 8
Any users running these operating systems and using the Apple Mail app with MPP turned on will no longer be trackable using pixel images. This is true across Apple's suite of devices, including iPhone, iPad, Mac, and even Apple Watch.
Why you should care about Mail Privacy Protection #
Mail Privacy Protection matters because it will affect some (but not all) of the metrics that email marketers rely on to measure the success of an email campaign. These are the top concerns:
Apple Mail open rates will be inflated
Geolocation data and open times for Apple Mail users will be inaccurate
Email campaigns that rely on open rates may break or become unreliable
Open rates will be inflated for recipients who receive emails on Apple Mail #
MPP makes it much harder to get accurate data on email open rates from Apple Mail users.
Because Apple now preloads emails on its own proxy servers, it will trigger the tracking pixel for every email it's processing. That means you could potentially see a 100% open rate for your Apple Mail recipients—whether they actually open your message or not. The greater percentage of your audience using Apple Mail, the more you'll see your open rates inflate artificially.
Keep in mind that Apple Mail works with different email accounts like Gmail, Yahoo, Hotmail, as well as company domains. It's possible to see inflated open rates for recipients who aren't using an Apple hosted domain.
With open rates becoming less reliable, your click-to-open ratios will also be skewed. False opens (that is, Apple Mail users who never actually opened your message but appeared to do so thanks to Apple's proxy servers) don't click links. As your open rate artificially rises, your click-to-open ratio will artificially drop.

You'll no longer get insights into geolocation and open times for Apple Mail users #
Some senders use location and open time data for segmentation purposes, both of which will be hampered by MPP.
MPP sends email content through multiple servers to prevent senders from learning a user's IP address, which limits location visibility. You'll still get an IP address, but it'll be for the Apple server that cached your tracking pixel.
If your emails include custom content based on geolocation, like displaying a nearby branch or store location, you can no longer use location data from email tracking to power your dynamic content. It just won't be reliable any more.
That said, even though Apple's changes have been in the news recently, that doesn't mean that they're the only provider to use image caching. Gmail and Yahoo also cache images, which limits visibility into opening environment (app, web client, etc), engagement, and geolocation.
In addition, Apple's servers preload and "open" messages, making open time stamps unreliable. You won't be able to tap into time-based insights, like the best time of day to send emails or which recipients are highly engaged (opening emails quickly and consistently) versus unengaged (opening emails sparingly or not at all).

Email campaigns relying on opens may break or become unreliable #
Businesses that rely on open data to power various email campaigns may find that those campaigns are even less reliable or begin delivering irrelevant messages to recipients.
For example, if your campaign is set to automatically resend an important notification to anyone who hasn't opened it after two days, or by 10:00 am on Tuesday, Apple Mail users may not receive those resends. That's because preloading the tracking pixel will make it look like all recipients opened the email already—while, in fact, they're still sitting in the inbox unread.
A/B testing based on open rates alone will also run into issues since you can't truly know how many people read one email versus another.
Focus on metrics that are reliable and actionable #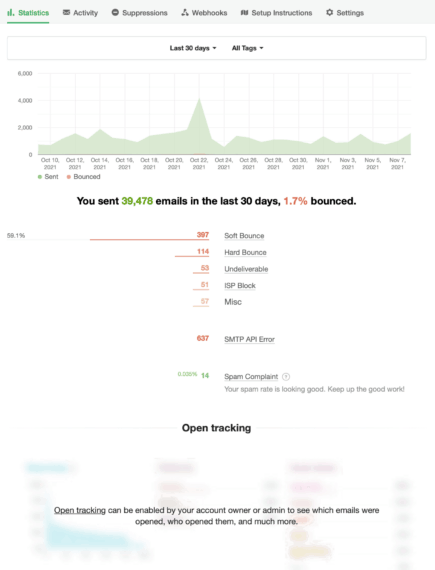 Apple's step towards further protecting their users' privacy has caused many doomsayers to predict the end of data-driven email marketing. But you know what? Pixel-based email tracking has never been a perfect science, and Apple's changes only made an imprecise metric even more unreliable.

Here at Postmark, we never thought you should obsess over open rates. That's why pixel-based tracking is disabled by default in Postmark. Instead, we help you focus on feedback that's more reliable and actionable, including unsubscribes, bounces, and spam reports.

For instance, spam reports and unsubscribes help you identify content that isn't resonating or diagnose weaknesses in your campaigns, while bounces can indicate outdated contact details or other issues with your email lists. These types of metrics don't just provide insights into campaign performance and what resonates with your audience (or… well… what doesn't) but also helps you protect your sender reputation.
Curious to give Postmark a try? Start your free trial.