Delivery performance and transparency
As we recently discussed, email delivery speed matters, and it can directly impact your bottom line. With Postmark, great deliverability isn't an afterthought or add-on, and you don't have to contact sales or be a high volume sender to get it. Great deliverability is part of our promise to you. It's our uptime.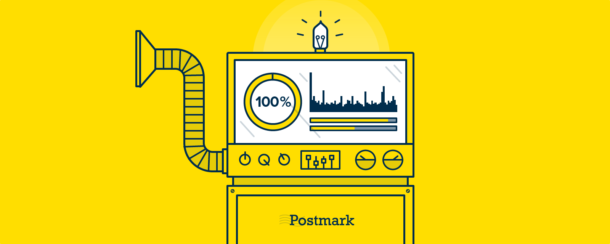 We've spent years focusing on email delivery speed. It's such a priority for us, that we want to put our performance out in the open to give customers access to the same information we use internally to hold ourselves accountable. Today, I'm incredibly happy to announce the new Postmark Status Page where we're publicly sharing our inbox rates and delivery times across the major ISPs.

Delivery speed to the inbox is critical #
About a year ago, we were talking to a friend who ran a product selling songs on behalf of artists. He mentioned that they had to keep increasing the size of their support team simply because customers weren't receiving email receipts with download links fast enough. Those customers would purchase, wait briefly for the email, and then email support to ask where their purchase was. Slow emails were directly hurting their bottom line. That was the moment we recognized many senders don't realize that email can be faster and that speed matters so much.
People don't sit around refreshing their inbox waiting for their next Gap newsletter or promotion, but they do wait for password reset emails, downloads, and license keys. We aren't just a service to casually send emails, we have to deliver them and do it quickly. Getting to the inbox is critical and getting there extremely fast isn't an optional add-on. It's imperative. For infrastructure products like email, great delivery shouldn't be a feature, add-on, or up-charge. It's something that each and every customer should expect regardless of how much they pay each month. It's simply part of the deal.
Our customers deserve transparency #
We know speed to the inbox is important, and we've created new tools and systems to help hold ourselves accountable. The team doesn't just get alerts when Postmark systems are down. We get alerts if delivery is slow. We monitor those alerts on par with how we monitor uptime. We treat any delivery delay as if the API was down and respond and adjust accordingly, but we know that's not enough. We want our customers to have access to the same data that we're already using to hold ourselves accountable.
Getting to the inbox is critical and getting there extremely fast isn't an optional add-on. It's imperative.
Our new status page takes transparency a step further by sharing aggregate delivery information for all of Postmark. This performance data goes beyond the traditional uptime information and includes both our inbox delivery rates and the time it takes to get to the inbox for the five main ISPs. Right now, that includes Gmail, Yahoo, Outlook, iCloud, and AOL, but we'll be adding more in the future based on the volume we see from customers. And as an added bonus, we've also added an API for this information so you can include it in your own dashboards.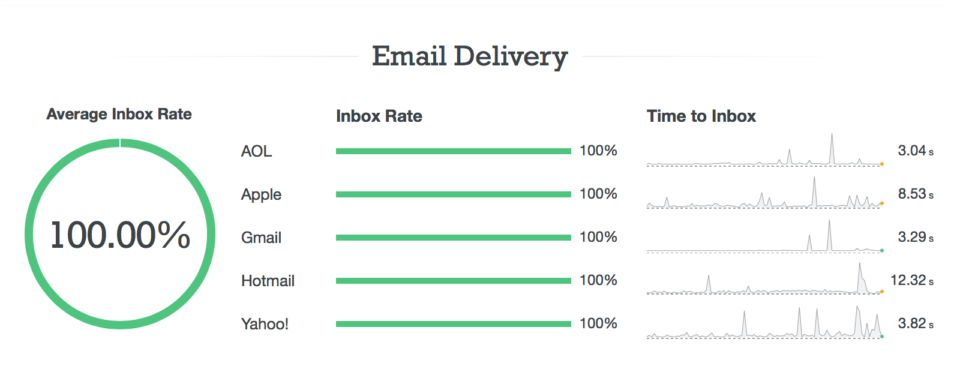 This isn't our first step towards increased transparency. Over the last year, we've been working to share more delivery details including information on message events like delivery, bounces, and opens. We've made this info available not only through web interface but also via the API. While this gives you a sense of delivery times for individual emails, it's only one piece of the puzzle. The new status page and status API are the next pieces.
To us, transparency is simply honest and fair. We won't be perfect. We will have some issues from time to time. Sometimes it'll be on our side, other times it'll just be an issue with an ISP. But regardless of the cause, you deserve to know about it and have access to the same information we have. That way, you'll be able to make the same informed decisions that we make. Whether that's switching to a backup provider, or adding a notification inside of your app to let your users know, you'll have the power to do it.
How we test, measure, track, and share it all #
Recognizing the importance of delivery speed is one thing. Monitoring, tracking, and sharing that information is another thing entirely. We've always monitored and tested reliability, inbox rates, uptime, and delivery, but that's not breaking new ground. With delivery speeds, we're going into new territory, and there are a handful of different ways that these numbers can be tracked. We've explored them all, but we ultimately settled on what we're calling "Time to Inbox."
So what is Time to Inbox? The short answer is that it's the amount of time from when we receive your request to send an email until the time an end user would see the message in their inbox. While it's not the easiest metric to measure, it is the most realistic measurement of what your users can expect in terms of delivery time. Ultimately, that's the number that matters because it includes all of the variables.
The easier metric to measure would be "Time to Delivery" or "Time to Acceptance." This would track the time from when we receive the request until we hear from the receiving mail server that it accepted the message. While this number would be faster and look better for us, it does not include delays that may arise due to ISP issues or ISP throttling. So it wouldn't be an accurate representation of the speed that end users see. And so we landed on Time to Inbox as the ultimate number that matters to customers.
Beyond sharing the numbers, we're also sharing what we can of the tools and approach that we used to not only gather the information but also present it. We welcome other ESPs to use these tools to share their data as well. We'd like to help the industry as a whole move in this direction and become more transparent about what customers are paying for. So far, we've released our MailHandler gem, and in the near future, we'll be following up with more releases and a detailed post about the metrics and everything that's gone into helping us become more transparent.
In summary… #
Our new status page has been a long time coming because it's the culmination of multiple initiatives on our part. We've wanted to update our legacy status page for quite some time now, but we couldn't settle for an off-the-shelf hosted status page. To us, the new status page represents way more than just a launch. It's one more way for us to increase transparency and give our customers more information so they can make better decisions and know that we're working hard every day to be the fastest and most reliable email service provider in the world.